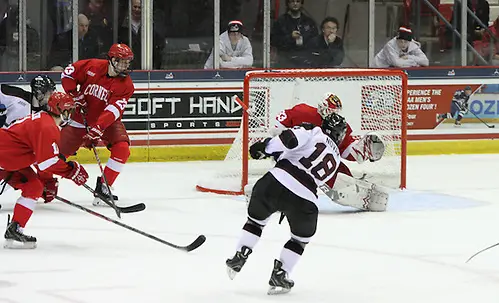 LAKE PLACID, N.Y. — Union has used its team speed to surprise opponents before — just ask Boston College in last year's NCAA East Regional in Providence.
But in the first ECAC Hockey semifinal game against fourth-seeded Cornell Friday at the Herb Brooks Arena, it was the Dutchmen's quick-strike ability that enabled them to advance to the program's fourth title game in five years. The win was also Union's 27th of the season, a school record.
The Dutchmen have a chance to capture their third straight Whitelaw Cup at 7:30 p.m. EDT Saturday, when they'll either face No. 2 Colgate or third-seeded Quinnipiac.
Up 2-1 late in the second period, the Dutchmen extended their lead thanks to Max Novak's goal at 17:20. Joakim Ryan pulled Cornell back to within one at 18:18, but Union responded with Mike Vecchione's goal at 18:32.
"The back-and-forth in the second period, momentum is going both ways," Big Red forward Christian Hilbrich said. "As a team, we've got to capitalize when we get momentum and we didn't. We had our chances and we just didn't convert."
For top-seeded Union, which ended the first period with a 2-0 lead, it was all about holding steady despite several pushes by Cornell throughout the second.
The Big Red made it 2-1 on Hilbrich's goal at 5:56 in the middle period but couldn't get the tying goal despite several good looks leading up to the late outburst.
"I thought when we made it 2-1 we had some outstanding opportunities," Cornell coach Mike Schafer said.
One of those chances was a wide-open look by John McCarron right in front of Dutchmen goalie Colin Stevens. But the Big Red forward shot wide of the net, and Union held onto its lead.
"Momentum is a big part of the game. We got that 2-0 lead and we stuck to our game," Union forward Cole Ikkala said. "We kept pushing. Credit to Cornell; they're a great hockey team. They pushed, we pushed, and in the end we came out on top."
Notes
The league announced several end-of-the year awards throughout the evening. Colgate coach Don Vaughan was honored with the Tim Taylor award for the league's top coach, while former Yale forward Jesse Root, now playing with the AHL's Bridgeport Sound Tigers, was named the ECAC's top defensive forward. Quinnipiac forward Sam Anas and St. Lawrence defenseman Gavin Bayreuther were honored as co-rookies of the year.