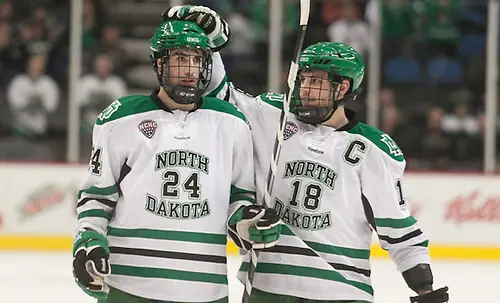 MINNEAPOLIS — One more chance was all it had.
After skating off the ice Friday night in a 3-0 loss to Miami, North Dakota entered Saturday afternoon's game against Western Michigan with a must-win mentality in order to have a chance of clinching a spot in the NCAA tournament.
NCHC playoffs
See the tournament bracket and get links to schedules and stories at NCHC Playoff Central.
Pending the outcome of later games around the country, UND put itself one step closer to the national stage after shutting out the Broncos in a five-goal game.
"We fought hard for our 23rd win of the season today," UND coach Dave Hakstol said. "That puts us in a situation where while we don't control our own destiny, we gave ourselves a chance. We did what we had to do to play a good hockey game."
North Dakota put no pucks in the net Friday but it rebounded with a two-goal game from Connor Gaarder and contributions from the team that yielded a much different result than less than 24 hours before.
When the bounces didn't go its way, all the team could do was focus on the next step.
"I think that was the biggest thing after the game yesterday," forward Stephane Pattyn said. "We were kind of disappointed in the locker room. We knew we had to win the games this weekend and we really wanted to win that first one to have a chance at the championship tonight. But right after the game, we had to turn the page and make sure we won this one today. And I think our team did a good job of doing that."
When less than a handful of wins was all North Dakota could claim at the end of November, the turnaround of the team was crucial.
North Dakota has handed over control of the remainder of its season but it knows it did all it could to rebound from the beginning of its season.
"It's going to be a long three or four hours sitting, waiting and watching," Hakstol said. "From where we came to get to where we are … as a staff, we couldn't be prouder of this group and the team that they've become — building and continuing to grow. With today's win, it at least gives us a chance to wake up tomorrow morning and prepare for a regional tournament next weekend. We'll see how the cards fall."
Although a win Friday night would have made securing the remainder of its season a simpler task, coming back with the right mentality proved to be crucial.
"That's part of the season," Hakstol said. "You take what the game gives you sometimes. It was awful disappointing last night around 10:30 p.m., but at that point in time, we just took a step back and said, 'This one's done.' We have to take care of what we can control and that's a real credit to he leaders in our locker room. There was no question that we were going to be ready to play today."