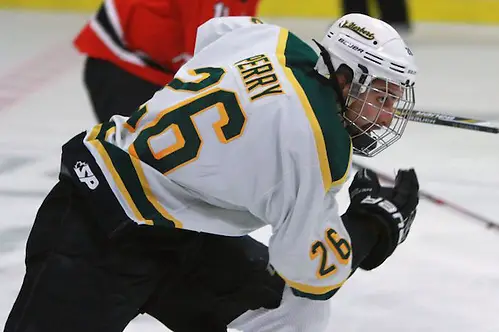 LEWISTON, Maine — The St. Norbert senior class finished up its four-year career in style Saturday night, winning its third national championship in defeating Wisconsin-Stevens Point 3-1.
The Green Knights also won back-to-back titles in 2011 and 2012.
Their lone off year – if you want to call it that – was last season when the Green Knights bowed out in the NCAA quarterfinals to the eventual national champions from Wisconsin-Eau Claire.
St. Norbert coach Tim Coghlin said the group of seniors, led by 2014 NCAA tournament MVP Joe Perry, made an impact from the first game they played in their college career all the way to Saturday night to cap off their amateur career.
"This senior class led by Joe and his comrades are a very unique group of kids that came through the doors as freshmen and they have played such impactful roles as freshmen and they won a national championship [in 2011]," said Coghlin. "As sophomores, they already took on leadership qualities that we have seen them exemplify in the classroom, the weight room and on the ice as a young group of men. Last year was very disappointing, [but] for them to come back and demonstrate the things they have this entire season, for me in my entire 20 plus years of doing this, I haven't seen a senior class like this."
Other seniors on the team include Mike Martin, Zach McDonald, Emil Haque, Patrick McCadden, Brandon Hoogenboom and Reid Campbell.
"It's been an unbelievable four years here," Perry said. "I have never expected to win three national championships. I am lost for words because it's unbelievable. This one is especially special because it's my last year here and to go out on top with the group of guys in this senior class is just unbelievable."
Perry said they looked forward to getting back to the Frozen Four right after their loss to Eau Claire right around this time in 2013.
"Ever since we lost last year, it was such a huge disappointment, especially to the team that eventually won it in a game we thought we should have won," Perry said. "We played very hard that game and to be able to come back this year and win every game we needed to win, to end up on top is something I am at a loss for words and can't believe we did it. It's the best feeling in the world right now."
The St. Norbert junior class has already won two national titles and hopes to match this year's senior class next year.
"Coming in here, you are lucky enough to win one national championship and to win two is just icing on the cake right now," St. Norbert junior goaltender David Jacobson said. "It's just unbelievable we are back here in the final. Obviously, we want to chase these [seniors] down to match their three. They have enjoyed their three and we want to enjoy our third one as well."