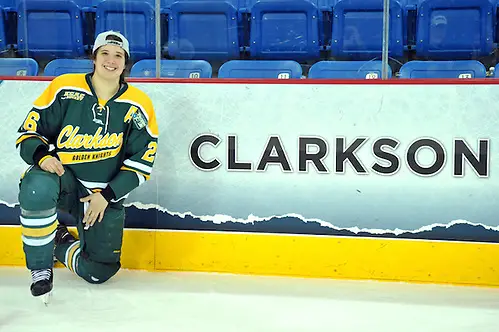 Numbers can only reveal so much. Yes, Jamie Lee Rattray's 66 points, coming from 29 goals and 37 assists in 41 games, was the highest point total in the country.
The most telling of those numbers was the 41 games. That was the highest number of contests in a season for Clarkson, because for the first time in its history, it reached the final game.
Shannon Desrosiers, one of the team's co-head coaches, earlier referred to Rattray as the team's heartbeat, and said, "I think we go as she goes."
Rattray just kept going, right through the NCAA tournament. She had three assists in the team's 3-1 quarterfinal win over Boston College. She had two more helpers as the Golden Knights breezed past Mercyhurst in the semifinal by a 5-1 count. Rattray scored a goal and added an assist in the 5-4 defeat of Minnesota in the championship. For the tournament, she was plus-6.
Over the course of her college career, she rewrote the Clarkson record book with 181 points, 77 goals, and 104 assists.
"I think it's something that you don't really think about while you're playing," she said when I spoke to her back in January. "I never really thought about that kind of stuff when I came in."
Instead, she focused on improving and helping her team win. The defensive side of her game may have been a weak point as a freshman, but it was no longer the case during her senior season.
"It's definitely a part of my game I needed to work on," Rattray said. "I have matured a lot more throughout my four years. Now I find that the defensive game is going to bring more offensively."
As the work honed her defensive game and grew her offensive production, it also upped the most meaningful statistic of all, Clarkson's win total. The Golden Knights won 31 times.
"I think if we just keep playing consistent and playing together and we use our depth on our team, I think we're going to be very successful," she said early in 2014. "I can't wait to see it and see what the road has in store for us."
The road ultimately brought more success than she may have even imagined, including a whole bunch of firsts for her team: first 30-win season, first ECAC Hockey season title, first win in an NCAA tournament game, first NCAA Frozen Four, and first NCAA Championship.
Rattray herself was named the player of the year in the ECAC, the Most Outstanding Player at the 2014 Frozen Four, and the winner of the 2014 Patty Kazmaier Award.
Today, we recognize her as the USCHO player of the year.