The Midwest Regional has a first-round matchup of teams that have played each other each season since 1968 and another matchup of teams that have already played three times this season.
So, yes, there's some familiarity in Cincinnati.
Longtime WCHA rivals Wisconsin and North Dakota weren't scheduled to play this season but the NCAA tournament stepped in to fix that. Friday's game will be No. 164 in the teams' history.
Ferris State and Colgate opened the 2013-14 season against each other, and Friday's first regional semifinal will be an unwanted bookend to the season for one of the teams. They also met for the championship of the Mariucci Classic in early January.
Here's a look at the teams in the 2014 NCAA tournament Midwest Regional: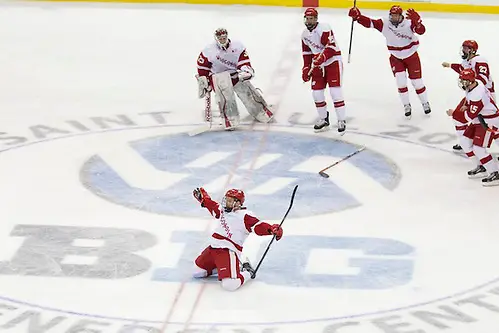 Wisconsin Badgers
Coach: Mike Eaves, 12th season
Record: 24-10-2 (14-6-1 Big Ten, second)
How they got in: Automatic qualifier, Big Ten postseason champion
Regional seed: First
Last NCAA tournament appearance: 2013
Best NCAA finish: Champion, 1973, 1977, 1981, 1983, 1990 and 2006
Why they'll get to the Frozen Four: The Badgers have balanced scoring from experienced players and Joel Rumpel is solid in goal. Wisconsin's nine seniors should play like there's no tomorrow.
Why they won't get to the Frozen Four: Recent history. The Badgers haven't won a game in the NCAA tournament since the team's run to the championship game in 2010.
In its first season in the Big Ten, Wisconsin accomplished the same feat as it did in its final season in the WCHA — winning the postseason conference tournament.
The Badgers probably hope that the similarities between this season and last end right there. Wisconsin lost 6-1 to Massachusetts-Lowell in the first round of the NCAA tournament last year.
Wisconsin, the No. 1 seed in the Midwest Regional, will face North Dakota on Friday at 8 p.m. EDT. The winner will move on to face the winner of the Ferris State and Colgate game on Saturday for a chance to advance to the Frozen Four.
"We don't have to travel as far east," coach Mike Eaves said. "Getting matched up with North Dakota tells me that the gauntlet starts right now. There's four games to get to the top of the mountain. Every team is going to be tough."
Wisconsin and North Dakota certainly aren't strangers. The former conference foes have played 163 times, which makes UND Wisconsin's fourth-highest opponent in terms of games.
"Over the last three years we've played them quite a bit," senior Jefferson Dahl said. "We know what they're going to bring, they know what we're going to bring and we're just looking forward to the opportunity. I'm sure it'll be a good one."
Before this season, the Badgers were predicted to finish first in the Big Ten. Their positioning was off by one spot, but the upperclassmen that were predicted to lead Wisconsin definitely reached the bar that was set for them.
Seniors Mark Zengerle and Michael Mersch have 43 and 35 points, respectively, for Wisconsin this season. Zengerle netted the overtime goal in the Big Ten tournament's championship game. The goal, oddly enough, gave North Dakota a tournament berth by denying Ohio State an automatic bid.
Sophomore Nic Kerdiles followed up his impressive freshman campaign with 37 points this season.
The Badgers are solid between the pipes, too. Junior Joel Rumpel has a 21-5-1 record this season with a 2.03 GAA and a .930 save percentage. Rumpel gave up four goals last Saturday against the Buckeyes, but Eaves said that he was not concerned.
"The thing about Joel is that he won the game," Eaves said. "The first stat you should look for is your goaltender's wins and losses, not his save percentage. He gave us a chance to win the game."
One difference between last season and this year for Wisconsin was that the Badgers needed to win the WCHA Final Five to get a berth last season. This year, Wisconsin's tournament status was not in doubt.
"It's definitely two different seasons completely," junior Jake McCabe said. "It was a great learning experience last year. We got a taste of the NCAA tournament but obviously not the result we wanted. We've got a lot of momentum going in this year. … We have a lot of confidence right now."
— Drew Claussen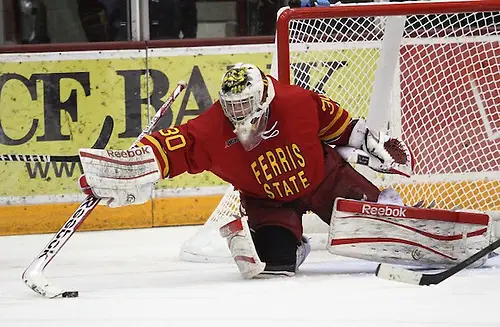 Ferris State Bulldogs
Coach: Bob Daniels, 22nd season
Record: 28-10-3 (20-6-2 WCHA, first)
How they got in: At-large bid
Regional seed: Second
Last NCAA tournament appearance: 2012
Best NCAA finish: Runner-up, 2012
Why they'll get to the Frozen Four: The Bulldogs still boast 12 players from their 2011-12 team that finished as national runners-up, including seven who played in 30 or more games that season. One of those 12 players is Hobey Baker Award finalist and All-WCHA first-team goaltender CJ Motte.
Why they won't get to the Frozen Four: Despite being the fifth overall seed in the NCAA tournament, Ferris State finds itself facing a team in Colgate that coach Bob Daniels admits is not a good matchup for his Bulldogs.
Ferris State and Colgate met three times already this season, with the two schools splitting a series in Hamilton, N.Y., on the opening weekend of the regular season — 7-4 Ferris on Oct. 5 and 1-0 Colgate on Oct. 6.
The Raiders then beat the Bulldogs 3-0 in the Mariucci Classic championship game in Minneapolis on Jan. 4 to snap Ferris' 16-game unbeaten streak (13-0-3).
"We had a hard time matching up," Daniels said about the 3-0 loss. "It will be interesting to see where we are at right now.
"I'm glad we had the opportunity to face them to see how good they are. We have a healthy dose of respect on our end for that team.
"We were really impressed when we played them, really impressed."
Daniels said the Raiders are as good as the two best teams the Bulldogs faced all year in Alaska and Minnesota State. Ferris went 2-5 this season against the third-place Nanooks and Mavericks, with the latter beating the Bulldogs 4-1 in the WCHA Final Five championship last Saturday.
Like Minnesota State and Alaska, Daniels said Colgate has a potent power play and plenty of scoring depth.
In the three games against the Bulldogs, the Raiders picked up eight goals from eight different players, with four of those goals coming on the power play.
"They are two lines deep of scoring at least and they have a really good complementary third and fourth line," Daniels said. "They have a really good defenseman in Spiro Goulakos. He's really an offensive force."
Also working against the Bulldogs in 2014 compared to 2012 is the lack of a layoff. When Ferris reached the national championship game two years ago, it had two weeks to prepare for the NCAA tournament, having lost a three-game series to Bowling Green in the CCHA quarterfinals.
The Bulldogs could have used some extra time to rest this time around after spending the week leading up to the Final Five battling the flu.
"I'm crossing my fingers, but it seemed for everyone that had the flu, it's gone now," Daniels said. "We should be much healthier.
"It would be nice to have a little bit of a layoff. That year it gave us a chance to rest and get everybody healthy. It also gave us a chance to work on parts of our game that were lacking. Obviously, we don't have that benefit this time. In a weird way, that layoff kind of helped us two years ago."
— Matt Wellens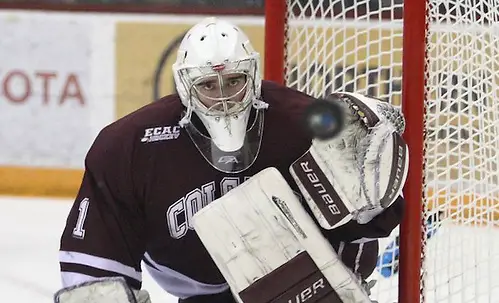 Colgate Raiders
Coach: Don Vaughan, 21st season
Record: 20-13-5 (13-6-3 ECAC Hockey, second)
How they got in: At-large bid
Regional seed: Third
Last NCAA tournament appearance: 2005
Best NCAA finish: National runner-up, 1990
Why they'll get to the Frozen Four: Colgate is deep on both offense and defense, while Charlie Finn has been outstanding in goal during the second half. The Raiders don't have one glaring weakness and have beaten some tough teams this year, including Ferris State twice.
Why they won't get to the Frozen Four: While Colgate doesn't have any major weaknesses, it also doesn't stand out in one area. The Raiders have gotten to this point by playing a solid team game, and if they deviate from that, it could end their season.
It wasn't hard to notice the excitement Colgate coach Don Vaughan had for his team last year. And that was a season that ended with a brutal second half and a sweep in the opening round of the ECAC Hockey playoffs.
Now, it's apparent what the veteran coach and his staff saw in the Raiders, who went 13-4-3 after the holiday break to secure a spot in the NCAA tournament for the first time since 2005 after being picked ninth in the league preseason poll.
"I think our body of work this year from start to finish has been really special, and that speaks a lot to the character in our locker room," Vaughan said. "I don't think a lot of people expected us to be in this position at the start of the year."
The core of the Raiders' success is a strong sophomore class that saw plenty of playing time as freshman. That may have led to some struggles, but that class has been one of the more productive groups on the team.
Twin brothers Tylor and Tyson Spink play with classmate Kyle Baun on the Raiders' top line. Those two, along with Mike Borkowski, all played junior hockey together with the Cornwall Colts, and are on the Raiders' top power-play unit.
Sophomore Darcy Murphy leads the Raiders with 19 goals. Murphy's a bruising power forward but needs better control at times. He was called for three penalties in the ECAC championship game, including one that led to a Union power-play goal.
They may not get the same attention as their classmates, but sophomores Kevin Lough and Ryan Johnston have been steady on defense, along with junior captain Spiro Goulakos and freshmen Brett Corkey and Jake Kulevich.
Freshman goalie Charlie Finn gave up four goals to the Dutchmen but has had a strong second half otherwise.
In the past, the Raiders went all-out on offense, often at the expense of defending their own zone. Colgate is still aggressive on the forecheck, and its defensemen aren't afraid to jump into the play but they've gotten more responsible defensively as the year has progressed.
The Raiders are also a strong faceoff team and move the puck well five-on-five and on the power play.
Colgate and Ferris State have already played three times this year, and the series serves as a microcosm of the Raiders' season. Colgate opened the year with a 7-4 loss to the Bulldogs, but rebounded with a 1-0 win the next day and a 3-0 win in the Mariucci Classic title game on Jan. 4.
— Nate Owen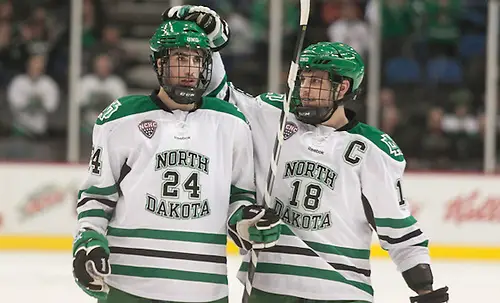 North Dakota
Coach: Dave Hakstol, 10th season
Record: 23-13-3, (15-9 NCHC, second)
How they got in: At-large bid
Regional seed: Fourth
Last NCAA tournament appearance: 2013
Best NCAA finish: Champion, 1959, 1963, 1980, 1982, 1987, 1997 and 2000
Why they'll get to the Frozen Four: UND ended up getting into this year's tournament by the skin of its teeth after getting shut out last Friday by NCHC last-place club Miami. UND had been great between Thanksgiving and the last weekend of the regular season and then took a step back, though, so perhaps the loss to the RedHawks provided a necessary kick up the backside.
Why they won't get to the Frozen Four: Last season, UND was taken to three games in the first round of the WCHA playoffs, then got bounced right away in the league's championship weekend, then struggled to win its opening-round NCAA game and then lost in a regional final. We're halfway toward seeing all those things happen again this time around.
It's only fitting that in the first round of the NCAA tournament North Dakota will be playing a team that UND has to thank for its spot in the tournament.
The continuation of UND's run of 11 consecutive years taking part in the NCAA tournament was cast into serious doubt last Friday. UND fell 3-0 in their NCHC playoff semifinal to a Miami team that had finished the regular season at the bottom of the league.
There was still something UND could do — namely, beat Western Michigan in the teams' NCHC third-place game last Saturday — but UND's NCAA tournament fate was no longer in the team's hands.
UND did what it could, pounding the Broncos 5-0 last Saturday in Minneapolis. With the way the PairWise Rankings were shaking down later that evening, though, UND needed former WCHA rival Wisconsin to oust Ohio State in the Big Ten tournament championship game in nearby St. Paul, Minn.
It wasn't pretty, but UND got what it wanted. The Badgers clawed back from being 4-2 down in the third period by scoring two goals 28 seconds apart before netting a game-winner over the Buckeyes 7:48 into overtime.
UND fans, players and coaches alike in the Twin Cities celebrated Wisconsin's victory. That's a pretty heavy thing to wrap your head around, but UND senior defenseman and captain Dillon Simpson was able to look at the big picture afterward.
"It's ironic how that works out," Simpson said Sunday. "Watching the game last night and cheering for [Wisconsin], I think everyone on our team was their No. 1 fan last night. But that's just how it works in college hockey, and we've got to turn the page here real quick and have a good week before we go to Cincinnati."
"Yesterday was a bit of a strange day," UND coach Dave Hakstol said of Saturday's playoff championship events in both Minneapolis and St. Paul. "It's a different situation than we've been in, but we had to really keep ourselves focused and do our job and make sure we gave ourselves a chance by playing well and winning a game.
"We did that, and after that it was scoreboard-watching, and that's never fun. But at the end of the night, things turned out the right way. Just by the narrowest of margins, obviously, but they turned out the right way and our hard work has paid off, and we've got a chance to keep playing."
Simpson said he and his teammates have parlayed their elation from Saturday night into the start of a good week of practice before the team heads to Ohio to take on the Badgers.
"A lot of positives for us, playing a good game against Western Michigan and having the opportunity to go to the NCAAs and trying to make a run," Simpson said. "I think for us, with the kind of season that's been up and down and we've had to battle back, we're really excited and really positive in our dressing room."
— Matthew Semisch