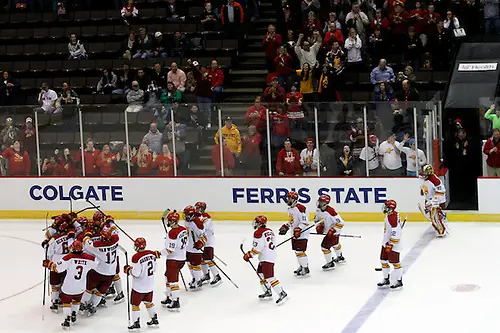 CINCINNATI — After allowing seven goals in two contests last weekend in the WCHA Final Five, Ferris State goalie CJ Motte bounced back with his fifth shutout of the season Friday.
His shutout coupled with a Gerald Mayhew tally was enough for the Bulldogs to top Colgate 1-0 in the first round of the NCAA tournament.
2014 NCAA Midwest Regional
See all of our coverage of the Midwest Regional on our regionals page.
Motte made 35 saves in his first appearance in the NCAA tournament. He made save after save from faceoff to buzzer.
"I think for whatever reason, I was in a groove," Motte said. "I think I brought my A-game this weekend but that was what we needed to do for everyone."
Motte had to be good early as Colgate had some quality chances in the opening minutes. He robbed Colgate's Tylor Spink 90 seconds into the game with his glove after Spink fired a wide-open shot from between the circles.
Stopping Colgate's second-leading scorer was one of many big saves Motte made.
"It is always nice to make a big save early," Motte said. "But even if I wasn't, I was feeling good out there and guys were ready going into the game."
Ferris State coach Bob Daniels credited Motte for limiting his rebounds.
"I thought something both goalies did really well was limiting rebounds," Daniels said. "It was a 1-0 game with a lot of scoring chances but both goalies pushed the rebounds out to the corners and I thought that made that difficult for either team to get anything set."
Ferris State defender Scott Czarnowczan said where Motte placed his rebounds was a key in limiting Colgate's chances.
"He's always good. He might have been better today but that isn't to say he wasn't good last weekend," Czarnowczan said. "Today, he did a real good job with rebound control. It helped us defensively."
Motte was 1-1 versus the Raiders this season coming into Friday, allowing seven goals in those two contests.
"First time we played them, it was their first games of the year. First games of the year are always a little tough," Motte said.
Motte is one of three goalies vying for the Hobey Baker Award. Allowing seven goals last weekend is rather uncharacteristic of Motte, who averaged 2.25 goals against coming into the NCAA tournament.
"CJ has played so well all year that I think a few goals in a weekend wouldn't ruin or hurt him," Daniels said. "I think it was more of a team issue a weekend ago than a goaltending issue. Last weekend leading into it, for whatever reason, we were tired. We were emotionally drained."
Motte said the team turned things around this week.
"We definitely had a good week of practice coming into this one," Motte said.
Motte took one final shot in the final seconds of the game, a slash from Kyle Baun that caused the Bulldogs to respond with a wrestling match in the corner of the rink.