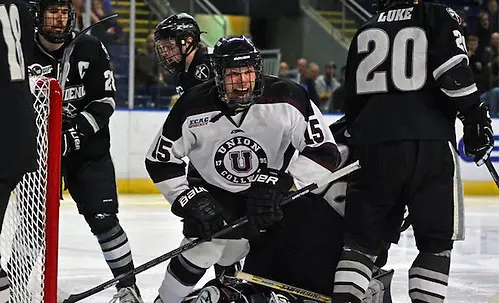 BRIDGEPORT, Conn. — Providence became the latest in an ever-lengthening string of teams to wonder, "What just happened?"
Union baffled, bedazzled and bamboozled the Friars in the first period of Saturday's NCAA tournament East Regional final with dominating puck control and quick, precision passing.
2014 NCAA East Regional
See all of our coverage of the East Regional on our regionals page.
The Dutchmen forecheck forced turnovers that led directly to goals and left Providence slack-jawed and slow-witted in response. Over the wickedly paced opening 10 minutes of the game, Union forced the Friars into five defensive-zone faceoffs while incurring none of their own.
The Dutchmen scored an early goal in the first and an early goal in the second, setting the tone for the proceeding 20 minutes each time.
"It's tough, especially playing back-to-back; the first period we were trying to find our legs and they got that early one," said Friars sophomore Nick Saracino.
Even when Saracino halved Union's lead and ended Colin Stevens' shutout bid with five minutes to play, Matt Hatch landed a rapid-response one-timer just 78 seconds later to send the Dutchmen to Philly and send the Friars into the offseason.
"We kind of got off our game a little bit in the third period," Hatch said. "Max [Novak] was forechecking really hard, we knew we wanted to find the soft spots in the slot … that was part of our game plan. I just kind of got lost [by the Friars' defense], and Max made a great pass out. I just tried to get it off as quick as I can. It was a great forecheck and a great pass by Max."
"[Friars forward] Ross [Mauermann] just thought he had a little bit more time" to corral Union's chip-in, Providence coach Nate Leaman said, giving Novak a chance for a pressure steal and feed from behind the net, leading to Hatch's dagger.
The goal marked the 17th time this season that Union responded within three minutes to a goal-against with a goal of its own. The Dutchmen have made it a bit of a calling card, pulling the momentum move four games in a row. They did it to stagger Cornell in the ECAC Hockey semifinals.
"It was a tough one to let up," Saracino said.
"I think it was huge," Hatch said. "We've been doing that all playoffs, and that's kind of been a statement of our team: Never get down after a goal. We kept attacking. … We kept going, kept forcing 'em."
"That was a couple-fist-pumps goal, I'll tell ya," Union coach Rick Bennett said. "That was pretty special.
"The guy sitting next to me [Hatch] … he was excellent. He is a clutch player. Mat Bodie: clutch player. There were a lot of clutch players. You don't like to single people out, but somebody's got to score for you. These were the guys that scored for us. Our upperclassmen were very big this weekend."
Bodie agreed: "That was a huge goal by Hatch. There were still four minutes left, but it really took the wind out of 'em, you could tell. You could feel it. We expect someone on the team to step up and score that goal for us: It could be a fifth or sixth D-man, a fourth liner, a first liner; it doesn't matter. We just expect someone to step up for us."
Every team preaches accountability, consistency, reliability. Every coach in the nation expects the best out of his players. With one, perhaps two games to play, Union and Rick Bennett have asked … and they have received.