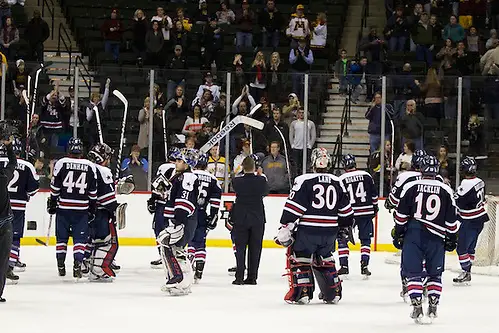 ST. PAUL, Minn. — Following Minnesota's 7-3 NCAA tournament-opening win over Robert Morris on Saturday, the pro-Gophers crowd gave a round of appreciative cheers and applause.
It was not just for the victors, for as the Colonials skated off the ice after saluting their own small fan base, the rest of the Xcel Energy Center's crowd kept the noise going for the NCAA tournament greenhorns.
2014 NCAA West Regional
See all of our coverage of the West Regional on our regionals page.
In its 10th year as a Division I program, Robert Morris got its first national tournament appearance. And while the Colonials couldn't get their first tournament win, they at the very least gave the top-seeded Gophers a game, twice pulling within two goals after facing an early deficit.
"I thought we never quit," Robert Morris coach Derek Schooley said. "I'm really proud of our hockey team. I thought we played hard. When you spot a team a 4-0 lead, it's really easy for that game to get away from you. And that game did not get away from us."
Minnesota jumped out to a four-goal advantage midway through the second period, but Robert Morris battled back to pull within 4-2 on goals from Cody Wydo and Zac Lynch.
Minnesota went up 5-2 in the third, but Robert Morris responded with a goal from David Friedmann just 25 seconds later to pull back within two.
Minnesota dominated large stretches of play, but Robert Morris just wouldn't go away.
Comebacks are nothing new to the Colonials, who started the season 2-12-2 before finishing on a 17-5-3 kick and winning the Atlantic Hockey tournament championship to earn their first NCAA berth.
"As a senior, it's a really nice way to go out," Colonials forward Colin South said. "Our first trip to the national tournament, I was able to be a member of the team when that happened. Hopefully, it's an event that will lead to better recruits coming to Robert Morris.
"It's a program that's been around for 10 years and gotten better every year. I don't think there's any reason why this shouldn't propel us to another national tournament next year, and hopefully win a few games."
"Being from Pittsburgh, I've watched this program grow from the start," sophomore Zac Lynch said. "Coach Schooley has from day one moved this program in the right direction. To be a part of this experience, and to bring us to the national tournament is just a humbling experience."
While the crowd reaction might have been different had Robert Morris pulled off the upset, the Colonials were nonetheless grateful for the tip of the cap from the fans.
"When they applauded us when we went off, it was just a humbling experience for all of us," Lynch said. "Just a great experience to be here and to see that."
"I've been proud of our team all year, and I hope everybody in Minnesota now realizes why we were in the national tournament, and how hard we play," Schooley said. "It was very nice to hear the applause we got from the Gophers fans at the end of the game."