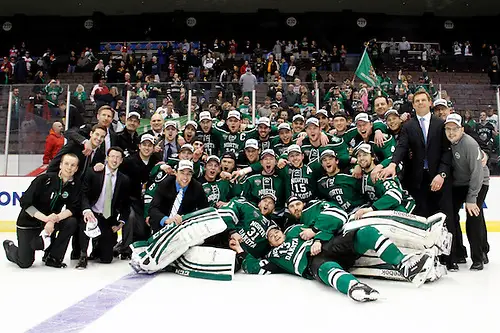 CINCINNATI — "Gordini, add your name to history and score this goal."
When a season comes down to one game and a game comes down to one goal, anyone can be the hero. In Saturday's Midwest Regional final, that hero was Connor Gaarder, aka "Gordini," the junior from Edina, Minn., who scored from the crease at 1:28 in the second overtime to give North Dakota a trip to Philadelphia with a 2-1 win over Ferris State.
2014 NCAA West Regional
See all of our coverage of the West Regional on our regionals page.
And Gaarder's teammates called it between the first and second overtimes.
"Gordini, add your name to history and score this goal." That's what the North Dakota players told Gaarder, according to forward Rocco Grimaldi.
"You never know how it's going to go in overtime," said Grimaldi, whose hat trick in Friday's 5-2 win over Wisconsin included two empty-net goals. "You know it's going to be a greasy one most often and it was. Gordy played a great game and I couldn't be happier for him to get the goal."
Gaarder, who centers a line with junior Brendan O'Donnell and senior Derek Rodwell, had seven goals coming into Saturday's contest and scored eight total in the 67 games he played in his first two seasons with North Dakota.
His two most recent goals were the first two goals in North Dakota's 5-0 win over Western Michigan in last week's NCHC Frozen Faceoff third-place game. The goal that held up to be the game winner came at 1:42 in the first, and his second was a four-on-four goal nearly 10 minutes later. Before that contest, it had been eight games since Gaarder scored; before that, it had been nine.
"It's always nice to get a couple of goals," said Gaarder. "It makes you feel a little more confident when the puck's on your stick, so I think the momentum that happened that night brought good things to me going into this weekend."
"He just works so hard," said junior forward Stephane Pattyn, an alternate captain. "He's a bulldog down there — I guess that's kind of ironic — but he works hard every day and he's a pain to play against, that's for sure, and he brings it every night. He's the epitome of what a North Dakota hockey player should be."
Coach Dave Hakstol said that it's "fitting" that Gaarder scored Saturday's game-winning goal, given that North Dakota is a team of relative unknowns.
"It's a group that is a bit of an unheralded group individually," said Hakstol, "but collectively this is a very good team. We've had different guys stepping forward on a regular basis. And we even said it coming in tonight. It's probably something different tonight that's going to end up in the spotlight. And that's how it was.
"Connor Gaarder is a heart-and-soul guy. He shows up every day and he plays for the jersey. It's nice to see him get that kind of reward and get that reward for our team."
"He's a greasy player and it was a greasy goal and that's how we've been winning games," said Pattyn. "It could've been anyone in that room, but seeing him put it in definitely felt good for the guy, for sure."