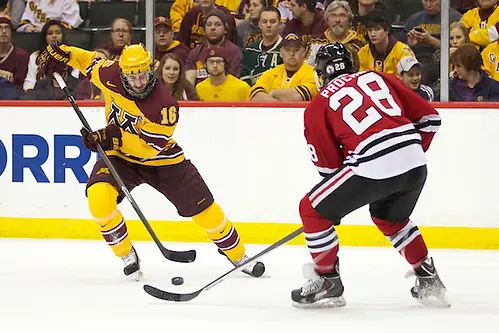 Sophomore goaltender Adam Wilcox said that last Saturday's 4-0 victory over St. Cloud State was Minnesota's best game of the season.
That's pretty impressive considering that the Gophers racked up 25 wins during the regular season.
2014 Frozen Four
Follow all of USCHO's coverage at Frozen Four Central.
Minnesota's offense was potent during the NCAA West Regional; the Gophers outscored Robert Morris and St. Cloud State by a combined score of 11-3.
As it's been all season, many different skaters found their way onto the score sheet for Minnesota.
"We're a team; we haven't relied on any one guy," Gophers coach Don Lucia said after the victory against St. Cloud State. "Our top goal scorers are in the teens. We don't have 20-goal guys.
"We're effective how we played this weekend," Lucia added. "Good goaltending. We don't take a lot of penalties to put ourselves in bad situations. And when we get all of our lines contributing like they did this weekend and our defensemen chipping in a few goals, that's when we're at our best."
Minnesota's offense is not only not coming from only one player, it's not coming from only one type of player, either.
In the two games last weekend, Minnesota got a coast-to-coast goal from speedy senior captain Nate Condon; two goals that came from near the blue paint from junior captain Kyle Rau; and two goals from freshman Justin Kloos, to name a few.
Lucia highlighted Condon's weekend, which featured two goals on Saturday and two assists on Sunday, as one of the Gophers' brightest spots.
"I sat down with him earlier in the week and just reemphasized the importance of him playing well for us to have success," Lucia said of Condon. "The way Nate played this weekend elevated our team. His leadership elevated our team. His contributions elevated our team."
Condon is one of only five seniors on Minnesota's roster, and after the well-documented departures in his graduating class from last year's team Lucia said Condon's importance to this year's squad was huge.
"He's been tremendous all year," Lucia said. "For the most part he's had to play with two freshmen and I think he probably wanted to play more center this year, but in typical fashion he sacrificed for our team."
With the early departures of Nick Bjugstad, Nate Schmidt, Erik Haula, Zach Budish and Mark Alt from last year's squad, playing next to freshmen is something that the majority of Minnesota's upperclassmen have been doing all season.
"We knew going in with the departures that we had that we were going to have to bring in a number of [freshmen] and they were going to have to play important roles for us," Lucia said. "We put them in those roles right from the get-go in hopes that it would prepare them for this week, when you get to the end of the year."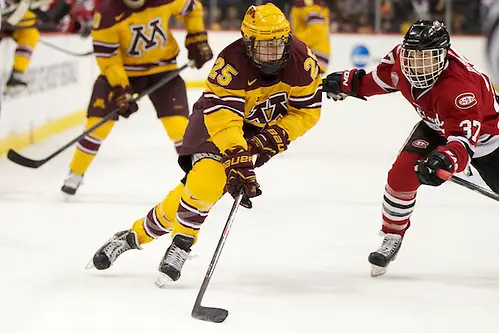 Minnesota had six true freshmen and one redshirt freshman dressed last Sunday night; freshman Jake Bischoff was a scratch.
"Most of our young guys come directly out of high school. We don't have a bunch of 20- or 21-year-old freshmen," Lucia said. "Those guys have done a nice job and the older guys have done a nice job of embracing the roles that they have, because some of them come in and play pretty elevated in our lineup."
Kloos' two goals on Sunday were no fluke; he has 15 goals and 15 assists in his first college season. Fellow freshmen Hudson Fasching and Taylor Cammarata are right on his heels with 29 and 25 points, respectively.
"You can ask all seven of us: We are blessed with a group in front of us with upperclassmen that are great leaders," Kloos said after Sunday's game. "Coach already mentioned today how well our captains were able to lead us, and I think that we have been able to feed off of them all year and we are just happy that we have been able to step in and help the team win."
At the beginning of the season, Lucia said that he knew making the NCAA tournament was not a lock because of the team's youth. Heading into the Frozen Four, Minnesota's balanced attack, with goal-scorers spread across its lines and ranging in age from freshman to senior, looks to be its strongest asset.
"They've performed, for the most part, all season long," Lucia said. "[Last] weekend I think they learned the way you have to play."