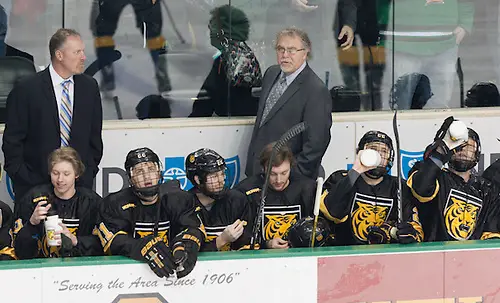 Colorado College coach Scott Owens has resigned after 15 seasons as coach at Colorado College, the school announced on Sunday.
The school said that Owens and athletic director Ken Ralph agreed after a postseason review that it was time for Owens to step down.
"I have been fortunate to have had the best job in college hockey for the past 15 seasons. It is time for a new coach to enjoy working with our players," Owens said in a statement released by the school. "I appreciate the support and encouragement I have received during my tenure and I hope the new leader of the team will be treated with the same respect. This is a tremendous institution and I am proud of what we accomplished here. I will always be a Tiger."
According to The Gazette beat writer Joe Paisley:
Owens, who did not attend the banquet and was unavailable for comment, contacted athletic director Ken Ralph of his decision a few hours before the National Collegiate Hockey Conference program's annual team awards banquet. Ralph notified the players and athletic department staff members as they arrived for the luncheon at the Colorado Springs Marriott Hotel that afternoon.
Owens, 58, was 324-228-54 in 15 seasons behind the bench at his alma mater but the Tigers struggled in their first season in the NCHC. They finished seventh in the league and had an overall 7-24-6 record. Colorado College made the NCAA tournament seven times in Owens' tenure, including a Frozen Four appearance in 2005.
His teams won WCHA regular season championships in 2003, 2005 and 2008, and he coached a pair of Hobey Baker Award winners — Peter Sejna in 2003 and Marty Sertich in 2005.
In December 2011, Owens agreed to an undisclosed contract extension. The Gazette reported that there were two years remaining on Owens' contract after this season.