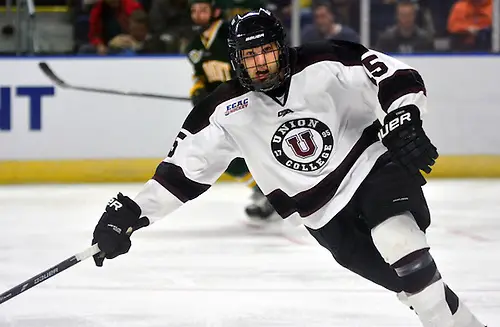 After downing Vermont in the East Regional opener, Union coach Rick Bennett said: "I heard someone mention Frozen Four; that is light years away. Know what is important now — these guys getting their rest, our video session and get ready for the game."
You can't blame Bennett for wanting to keep his team grounded ahead of another win-or-go-home battle, but once the Dutchmen had dispatched of ex-coach Nate Leaman and his Providence Friars fewer than 24 hours later, well, a light year isn't as far as it used to be.
2014 Frozen Four
Follow all of USCHO's coverage at Frozen Four Central.
Union is in the Frozen Four for the second time in program history and the second time in three years. The last time the small school from Schenectady, N.Y., made it this far, the Josh Jooris, Kelly Zajac and Jeremy Welsh-led squad was ground down in the national semifinal by Ferris State, 3-1 in Tampa.
This year's team is fortunate to have many upperclassmen who played featured roles on that 2011-12 team, including seniors Daniel Carr, Matt Hatch and Mat Bodie, and junior standout Shayne Gostisbehere. Goalie Colin Stevens didn't play in Tampa three years back, but he backed up predecessor Troy Grosenick and was on the bench with so many of his current teammates.
"You can't really put it into words," Bodie said. "I'm so proud of how hard the guys battled. The one thing I remember about the last time is it's a whirlwind of how quick it all went by, and then sitting after the game, just realizing how hard you have to work. I think we worked just as hard in that year.
"Two years ago when we went, it was wild in that dressing room," Bodie told Ken Schott of the Schenectady Daily Gazette. "Guys were really celebrating hard. This year, guys were happy that we won, but we didn't celebrate like we won a championship because, at the end of the day, you haven't yet.
About Union
Coach: Rick Bennett, third season
Record: 30-6-4 (18-3-1 ECAC Hockey, first)
How they got to the Frozen Four: Beat Vermont 5-2 and Providence 3-1 in the East Regional
Regional seed: First
Last Frozen Four appearance: 2012
Best NCAA finish: National semifinalist, 2012
Why they'll win the national championship: As has been repeated of Union often this year, the Dutchmen can hang with anyone in spite of their size. Relentlessly quick of feet and thought, Union can capitalize on the slightest misstep.
Why they won't win the national championship: Union has beaten all comers this year, but has yet to face the likes of Boston College, Minnesota or even North Dakota. Its smaller size and inexperience could finally prove a fatal flaw.
"The biggest thing is we're keeping things within the locker room and not letting any distractions come at us and not get carried away with anything from the media or the students or the faculty. This year, we're a little bit more mature with our approach here."
Tampa was the first Frozen Four for the program, its head coach and of course every player on the roster. This year may be Union's golden chance to make up for 2012's underappreciated opportunity. Their Thursday opponent, for one, is in no hurry to look past the dangerous Dutchmen.
"It's been interesting to watch the development of Union hockey," legendary Boston College coach Jerry York told Schott. "Kevin Sneddon had a hand in it. Nate Leaman followed him, and now Rick Bennett has taken them to a whole different level. What Rick has done is incredible. You look at the last three years, there were six opportunities to win a league championship and a tournament championship, and he has won five of those six trophies.
"The fans of college hockey are thinking Minnesota, North Dakota, Boston College, you've got historical strong college hockey programs. But the person that really follows [college hockey] closely thinks Union might be the favorite of all of us. They've had such a great run here."
Bennett said that he knows BC will be seeking revenge for last year's 5-1 Union victory in the opening round of the NCAA tournament, but said his players are ready to step up to what is almost universally considered their greatest challenge this season.
"I think last time, you kind of get caught up in a lot of things," Hatch said of the Dutchmen's last Frozen Four appearance. "We've got a lot of experience in the locker room and I think that's going to help us going forward."