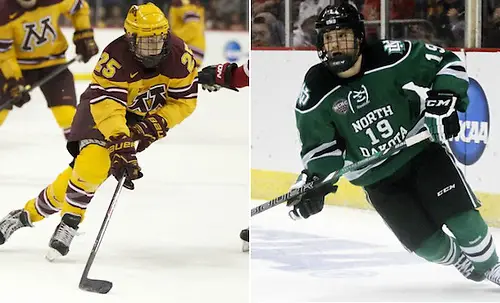 When the second pair of Frozen Four participants take the ice Thursday night, an old rivalry will be rekindled between a pair of former WCHA opponents and a pair of the winningest schools in NCAA tournament history.
The Minnesota Golden Gophers will face North Dakota for the 291st time, with the Gophers appearing to be the better team on paper. Until the final buzzer sounds, however, anything can, and often does, happen when these teams are involved.
2014 Frozen Four
Follow all of USCHO's coverage at Frozen Four Central.
Gophers coach Don Lucia is searching for his third NCAA title since taking over the program from Doug Woog in 1999. His team comes into the Frozen Four having won its last two games after dropping two in a row.
This might be the deepest team Lucia has fielded in several seasons, however, and that makes a difference when it comes to this time of year.
"They have great team speed," said Wisconsin coach Mike Eaves. "They play with great pace. They have a really good skill set."
Juniors Kyle Rau and Sam Warning lead the way offensively for the Gophers. Rau has notched 37 points in 39 games, while Warning has 32 in 37.
Minnesota vs. North Dakota
What: A Frozen Four semifinal
When: 8:30 p.m. EDT Thursday
Where: Wells Fargo Center, Philadelphia
TV: ESPN2
The Gophers boast three freshmen who all play key roles in the offense as well. Justin Kloos, Hudson Fasching and Taylor Cammarata all have scored at least 25 points.
Much like Union, the Gophers' defensive corps can push the pace, which helps drive that talented, high-octane offense. Mike Reilly leads the way with 23 assists and 32 points in 37 games.
"Mike Reilly is very mobile," said Eaves. "He really plays well."
Junior Ben Marshall and sophomore Brady Skjei both have improved their puck-moving skills this season.
Every great team needs a stalwart between the pipes, and the Gophers are no exception. Sophomore Adam Wilcox has helped them to the nation's top seed thanks to his 25-5-6 record, which was good enough to win him the Big Ten goaltending title and player of the year award.
"Their goalie, Wilcox, won our league goaltending title," said Eaves. "He acts as a solid backbone for that team."
For all this great defense and balanced offense, it is not as though the Gophers are unbeatable. A key series in early February against Wisconsin shed some light on how to cause them trouble.
"When we beat them, we had to keep the games low-scoring," said Eaves, whose team twice beat the Gophers 2-1. "You have to keep the pucks in the corners."
Eaves had one last crucial bit of advice for opponents of the Gophers.
"You have to grind them out," said Eaves. "You cannot let them wheel."
The team tasked with keeping them under control is North Dakota, a team that nearly did not make the NCAA tournament.
With the Big Ten's automatic berth on the line, the Badgers had to come from two goals down in the third period to beat fifth-seeded Ohio State in the playoff championship game, opening the door for Dave Hakstol's North Dakota squad to return to the tournament for the 12th consecutive year, including 10 with Hakstol at the helm.
North Dakota boasts 15 NHL draft picks, but it was walk-on Connor Gaarder who scored the double-overtime goal that lifted it over Ferris State and into the Frozen Four.
North Dakota's offense is full of similar stories, but that is what makes it an intriguing and difficult opponent.
"Their forwards have tremendous will," said Eaves. "They may not be the most skilled, but they really have tremendous will."
North Dakota's top four scorers are all forwards with at least 24 points. While their offense lacks marquee names after sophomore Rocco Grimaldi, their defense has proven to be extremely effective this season.
"Their defense might be the best offensively in the country," said Eaves. "You really have to be aware of where they are on the ice."
Sophomore Jordan Schmaltz and junior Nick Mattson have both recorded 23 points. Senior Dillon Simpson has picked up 22, including a team-high six power-play goals.
Simpson's point totals are even more impressive when you add in his nation-leading 107 blocked shots. Schmaltz has also made things tough for opposing forwards by blocking 58 shots.
However, where North Dakota's defense has really shined has been between the pipes, where sophomore Zane Gothberg has stabilized the situation. After appearing in 17 games and going 9-4-3 as a freshman, Gothberg's workload increased significantly as he appeared in 32 games this season and posted a 20-9-3 record.
Never this season was that more evident than his 44-save performance against Ferris State at the Midwest Regional.
"Their goaltending is outstanding," said Eaves. "If you ask Ferris State, he really stole the game."
North Dakota's defense is strong enough and quick enough to attempt to neutralize the Gophers' offense, but if allowed time and space, the Gophers will take both.
"Minnesota has to the use that incredible team speed," said Eaves. "If they are allowed to skate, they will."
This game features one of the nation's most balanced and quickest offenses going up against a difficult and tough defense. No matter which team comes out of this semifinal, the winner should prove a capable opponent for the winner of the Boston College-Union game.