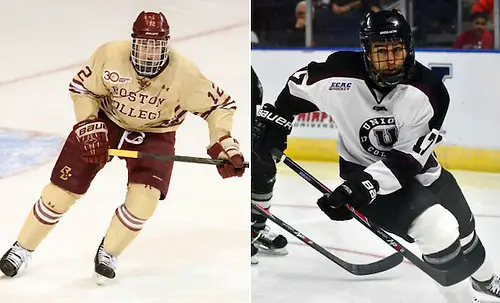 When the Boston College Eagles and the Union Dutchmen take the ice in Philadelphia on Thursday, experience will be one of the key factors.
The Eagles boast Jerry York as a head coach, who in 20 seasons leading the team has been to 15 national tournaments with four championships. The Dutchmen are coached by Rick Bennett, who has taken his squad to the NCAA tournament during each of the three seasons he has been there.
2014 Frozen Four
Follow all of USCHO's coverage at Frozen Four Central.
The Dutchmen have 13 skaters who have been to the tournament for every year of that run. The Eagles have 11 skaters who have been to the last three tournaments. All that experience adds up in a hurry.
The Dutchmen have never won a Frozen Four title, making only one Frozen Four appearance two seasons ago. But that does not mean Bennett will not have his team ready to go come Thursday evening.
"Rick Bennett has done a fantastic job taking over for Nate Leaman, who took the Providence job," said Vermont coach Kevin Sneddon. "This team has really taken on the character of their coach."
Seven of their top nine scorers are upperclassmen. That depth gives Bennett several options as he attempts to counter the Eagles' top line of Johnny Gaudreau, Kevin Hayes and Bill Arnold.
Boston College vs. Union
What: A Frozen Four semifinal
When: 5 p.m. EST Thursday
Where: Wells Fargo Center, Philadelphia
TV: ESPN2
"They have incredible depth," said Sneddon. "They can roll three or four lines with equal success."
Other coaches who have seen the Dutchmen echo that sentiment.
"They are one of the deepest teams in college hockey," said Mark White, an assistant at Brown. "They are one of the hardest-working teams in the country."
The Dutchmen's ability to drive the offense starts on the back end, where four upperclassmen lead the rush from the defensive corps.
"They probably have the most talented defensive corps," said Sneddon. "They are difficult to forecheck because they get the puck and move it on very quickly."
White added: "Their defense can really push the pace. They have some big-name guys back there who can really move."
Senior Mat Bodie and junior Shayne Gostisbehere are two of the best in the country at starting the rush. Most coaches would do anything for just one player of their skill level, but Bennett has the luxury of two.
Bodie has 29 assists to lead his team, while Gostisbehere has added 21 of his own.
"Mat Bodie really hurt us," said Sneddon. "Gostisbehere is poised and very sound defensively. He is an elite player."
Of course, all of this ability to move the puck becomes moot for the Dutchmen if they are busy chasing the Eagles' forwards all night long.
The Eagles' top line features three skaters who individually are all strong players but together can be deadly.
"What else can be said about the best line in hockey?" said Sneddon. "Gaudreau really drives that line. Arnold is great on faceoffs and is responsible defensively. But that's not to say he can't score, as his goal against us is proof. Hayes is just a beast of a power forward. He's tough and physical."
The trio has combined for 76 goals and 192 points this season, but it hasn't played the entire season together. Eighteen of those goals have come on the power play and 14 have been game-winners.
"They are built around team speed," said White. "They are really built for the transition game."
Even with all those impressive numbers from their top players, the Eagles found themselves needing to develop other scoring avenues after a Jan. 11 matchup with Brown, in which the Bears halted a six-game winning streak for the Eagles with a 3-3 tie.
"They have the best line in college hockey," said White. "You have to try to shut down that top line. I think that is why we had some success against them because we were able to keep that line fairly quiet."
The Eagles regrouped, winning their next 11 games. Three freshman forwards — Ryan Fitzgerald, Austin Cangelosi and Adam Gilmour — stepped up their games, giving the Eagles eight scorers with at least 19 points.
"They have some pretty good players in their own right who are not on the top line," said White. "They probably don't get the recognition, but they are all elite-level players."
Unlike the Dutchmen, the Eagles do not have a deep group of defenders who are known for pushing the offense. Only sophomore Michael Matheson has reached the 20-point mark from the blue line, while freshman Scott Savage has racked up 18.
The Eagles defensive corps is still effective and has freshman Thatcher Demko playing well in goal.
While a large portion of the Eagles' back end is young, coaches around the country have taken notice of the group.
"They are young, but they have a great back end despite the youth," said Sneddon. "Demko is young, so the biggest knock on him might be experience. They may not be as experienced with the freshman goaltender and freshmen defense, but they have the makings of several NHL players."
When these two teams take the ice Thursday evening at the Wells Fargo Center in Philadelphia, it will be a battle of wills between arguably the best offense and the best defense of the remaining teams. It is the kind of matchup that will have everyone talking.
"I, for one, am really looking forward to this matchup," said White.