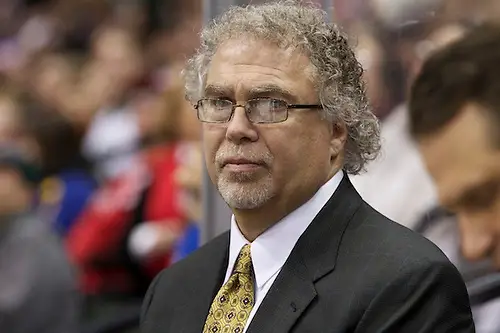 Colorado College athletic director Ken Ralph meets with each of the Tigers teams' coaches at the conclusions of their seasons, and some of these postmortems run more smoothly than others.
When the time came for Ralph to sit down with CC hockey coach Scott Owens for their postseason evaluation, what Ralph ultimately came away with was a need to hire a new Tigers bench boss.
The school announced Sunday that Owens had resigned following 15 seasons in charge of the Tigers hockey program with three WCHA regular season titles and seven NCAA tournament appearances to show for his tenure.
The 58-year-old CC alum moved aside after amassing a 324-228-54 record, making him the school's all-time winningest hockey coach.
Things didn't go well this season for the Tigers, however. In the inaugural campaign of the NCHC, Colorado College finished seventh in the eight-team league and posted a 7-24-6 overall record.
It was the second year in a row the Tigers had finished with a sub-.500 record, and CC hadn't finished a season with a winning percentage north of .700 since 2004-05, a season in which Owens' team appeared in the Frozen Four.
In a phone interview Monday afternoon, Ralph implied that Owens' resignation was the coach's idea.
"Whether your program wins a national championship or if your program has a difficult year, we sit down and have an evaluation every year," Ralph said. "And Scott and I sat down and talked about a lot of things going on with the program and the directions some things were taking.
"Scott after a while sat back and reflected about it and took some time to think about the direction and the way the evaluation was going and said, 'You know what, it's probably best for everybody that I step aside.' I really respect his professionalism, and while it's tough to accept his resignation, we're excited now about moving forward."
Owens didn't respond to messages seeking comment.
Ralph was quick to suggest that CC's record wasn't the biggest reason behind Owens moving on.
"When this league was formed, we thought the biggest weakness of the league was that we were going to have a spectacularly good hockey team finish last," Ralph said. "You look at Miami in eighth place in the league, and that was a tremendous hockey team loaded with talent, and then they battled their way back to play in the [league playoff] championship game in the end. I think you're going to see that a lot in the league, with a lot of one-goal games and a battle every night.
"We knew there were going to be years where, even with a good team, the record wouldn't be where we want it to be, but when you do these evaluations, the record [for the season just gone] is only a minor part of it. It's a long process in terms of fundamentals and things like that, so the record is only a minor part of the evaluation."
Many have speculated about who might take over for Owens behind the CC bench. Current Tigers assistant coaches Joe Bonnett and Eric Rud as well as outsiders such as Minnesota assistant Mike Guentzel and Tampa Bay Lightning assistant — and former Denver coach — George Gwozdecky have all had their names bandied about.
Ralph, however, wasn't willing to name names in terms of CC's ongoing search for a successor to Owens.
"Because of the quality of candidates we're talking to, we really need to keep the search as confidential as possible," Ralph said.
"They're going to demand confidentiality because they're not going to want it to affect recruiting where they might be currently, and if someone hears a rumor that they're looking at the CC job, it could impact them and put them in bad standing with their current school, and we don't want that. We really want to keep the search under wraps and as quiet but professional as possible."
Ralph continued by saying it's not just coaches currently in the collegiate ranks that CC will have its eye on in connection with the Tigers' vacancy. He also mentioned that he doesn't have a strict timeline set up in terms of announcing a hire.
"I think I said in the papers earlier that it's much more important for us to do this right than to do it quickly," Ralph said, "And we've got a lot of coaches who are still coaching right now who could be of interest, because we're expanding our search out beyond just the college realm.
"We certainly have some folks in the pro ranks who have expressed interest already in this position, and some of them will be involved in playoffs and still be coaching and would be difficult to get them involved. So we'll do our due diligence and do this quickly, but we need to keep the top candidates available to us."
As for whether Ralph might hire another coach with prior connections to CC, he said that would help the new coach but wouldn't be a major factor.
"People look immediately to people with connections [to the school], either former assistants or head coaches with the school or alumni, but the reality is we're going to look for the best coach regardless of if they have a connection to CC in the past," Ralph said.
"Certainly, it helps when you have someone who understands the school and understands the environment. That's a natural advantage, but we want to make sure we're hiring the best coach we can because we want to get this program back to a high level of national prominence."