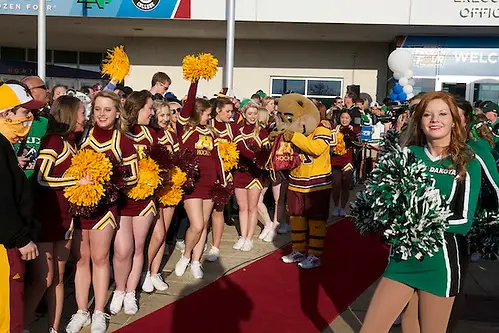 PHILADELPHIA — Four fans huddled in the Wells Fargo Center concourse after the second period of the Minnesota-North Dakota contest. The contest between the two bitter rivals was scoreless. The winner would go on to play for the national championship; the loser's season would end.
The four fans were young men of roughly the same age, but they were the unlikeliest of friends. Three wore Minnesota jerseys; one wore North Dakota's.
2014 Frozen Four
Follow all of USCHO's coverage at Frozen Four Central.
"I'm a little bit outnumbered, but I've been hanging out with these guys and going to the Final Five for the last 11 years," said Dan Gorder, the North Dakota fan. "I'm the odd man out, but we're friends anyways."
"Not tonight," said Rob, one of the Minnesota fans, to laughter all around.
"It depends what happens," said another, Ryan Feiner.
When this writer asked Rob for his last name, Dan offered what he considered an appropriate alias: "Dirty Gopher Fan."
All kidding aside, the four were loving the great action through 40 minutes of edge-of-their-seats hockey.
"This feels right," said Dan, the North Dakota fan. "It's how it should be. It feels like how it's been over the years. It's almost like this game was preordained before the season started with the Big Ten starting and the WCHA [breaking apart]. It's how it should be."
"You're lucky to be in it right now," countered Rob, aka "Dirty Gopher Fan."
When the conversation shifted to the thought that North Dakota might emerge with a win, the third Gophers fan, Jim Grabianowski, made clear the consequences for Dan.
"Then he has to die."
Dan protested. "But I've been to so many Gopher games with you guys –"
"He still has to die," said Dirty Gopher Fan.
Dan's life appeared to be spared at 10:51 of the third period when Minnesota's Sam Warning scored his first career NCAA tournament goal, but it once again fell into jeopardy when Connor Gaarder responded just 32 seconds later.
As the seconds ticked down with North Dakota on the power play, the contest seemed destined for overtime, but Minnesota's Justin Holl scored a short-handed stunner with 0.6 seconds remaining to send Gophers fans into a state of euphoria and their North Dakota counterparts into the depths of despair.
Dan Gorder's life had been spared, but he no doubt preferred the alternative.