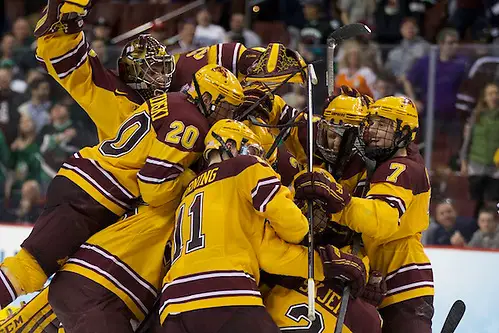 PHILADELPHIA — Big games make big names, and Thursday night there was no bigger name after Minnesota's 2-1 win over North Dakota than senior defenseman Justin Holl.
With just seven career goals in 140 career games before Thursday's Frozen Four semifinal — or 0.05 goals per game on average — Holl scored his first goal of the season, short-handed, with 0.6 seconds remaining in regulation.
2014 Frozen Four
Follow all of USCHO's coverage at Frozen Four Central.
And team captain Nate Condon, Holl's classmate, called it. Sort of.
"The coaches always talk about [how] they need seniors, they need older guys to step up and we were just kind of joking before the game about how it's Justin or [Jake] Parenteau's time to score and get their first goal," said Condon.
"It's funny how it works out like that. It always seems like the guy you don't expect is always the guy that's going to score at the end of the season. I'm happy for Justin and I think it's one of the biggest goals he's ever had."
While obviously not known for his goal scoring, Holl is someone the Gophers can count on for anything that's asked of him.
"I think he's a really selfless player," said Condon. "Last year we had to put him at forward just because of how our lineup worked out and he took it in stride. This year, they moved him back to defense.
"He's for the team. He's one of those guys who's just not going to complain and just play his role. He'll go back there and eat pucks and make breakout passes and be a defensive defenseman like we need. I think tonight was one of the rare shots and I guess he took advantage of it."
Holl's defensive partner, sophomore Brady Skjei, said that he was surprised that it took Holl 38 games to score his first goal of the season.
"He's been kind of snakebit a little this year," said Skjei. "It's crazy because he's been playing so well, but I think he saved it for a good time. That was awesome."
Skjei was in on the play that led to the game-winning goal.
"I just chipped it to him and he started skating up the ice with it," Skjei said. "I thought he was going to throw it behind the goal. I was watching the clock and … I could tell it was a good goal. He gave it to [Kyle] Rau for a second and Rau gave it back to him and I thought that one of them as going to chip it in deep with four seconds left. Weird things happen. It was unbelievable."
Holl didn't expect to be playing the hero, but he took advantage of an opportunity when it presented itself.
"Honestly, at that point in the game I was just focused on getting a shot on goal because I knew there was hardly any time left," said Holl. "So the puck came to my stick and I just wanted to get it on net and fortunately it went in the right place. I was happy about that."
While the rest of the college hockey world sees a senior defenseman who netted his first goal of the season at a time that couldn't have been more crucial, Minnesota coach Don Lucia said that the circumstances really weren't atypical for the Golden Gophers.
"It looked like we were going to kill [the penalty], then we jumped up on that three-on-two and no better time for Justin to score his first goal of the season than tonight, but that's our team," said Lucia. "We haven't relied on any one guy. A new guy has to step forward each and every night."