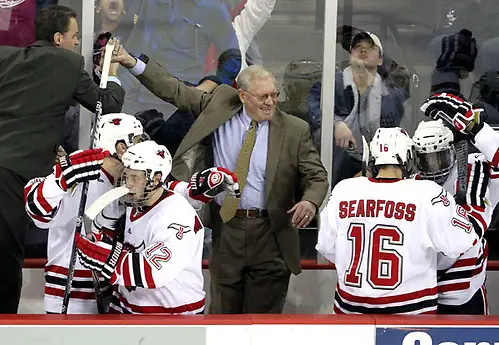 Nebraska-Omaha announced Friday that it has extended the contract of head coach Dean Blais through the 2017-18 season.
"Dean has done an exceptional job leading our team through a period of great transition during the last four years," said UNO director of athletics Trev Alberts in a statement. "In that time, he led the team into two new leagues, the WCHA and the NCHC, and his experience and knowledge of the leagues and the Division I hockey landscape was critical to our success.
"Next year, he will guide us through additional transition as we move into the new arena. This extension will allow us to ensure the continuity of our coaching staff and the recent positive momentum we've had recruiting quality student-athletes to our program."
During the 2013-14 season, the Mavericks posted a record of 17-18-2 and a mark of 13-9-2 in the NCHC, good for third place. The Mavericks had been picked to finish last in the league in the preseason coaches poll.
"When I came to Omaha, Trev and I had a goal of building an on-campus arena and I'm excited that this extension will allow me to see UNO athletics reach that goal," added Blais. "We consistently rank in the top five in attendance each year and that proves what a great hockey community Omaha is. We've got a very good core of returning players and what is perceived to be a great recruiting class coming in. As a coach, you want to work with great players with strong community support behind your team and we have that here."
Blais has compiled a record of 91-86-18 in five years at UNO.