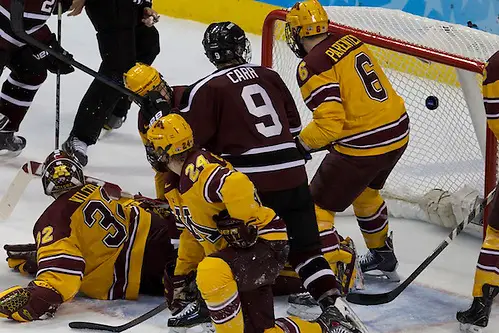 PHILADELPHIA — One minute and 54 seconds. Such a short span, but one that will undoubtedly be revisited over and over during the course of the lives of every single Minnesota player.
Leading Union 2-1 midway through the national championship game on Saturday, the Golden Gophers lost their focus for two minutes and arguably lost any chance they had at the NCAA title.
2014 Frozen Four
Follow all of USCHO's coverage at Frozen Four Central.
"I thought we came out and had real good jump," said coach Don Lucia. "I thought we had great energy. I'm not sure the mental part of our game matched the physical part. We made a few mistakes tonight that we don't normally make."
Between 15:09 and 17:03 in the first period, Minnesota's team defense was utterly out of sync, leaving sophomore goaltender Adam Wilcox to fend for himself and allowing the Union offense to pick its moments.
First it was Mike Vecchione tying the game at 15:09, then Eli Lichtenwald giving Union a 3-2 lead at 16:06, and then Daniel Ciampini making it 4-2 at 17:03.
Even though the Gophers scored two more goals in the game, the mistakes made in that stretch were more than Minnesota could overcome in its bid for a sixth national championship.
"It just got away from us," said freshman forward Justin Kloos. "We hung our goalie out to dry. He's been our best player all year, and for us to put him through that was kind of disappointing."
Wilcox, a sophomore, finished the season with a 1.97 GAA and .932 save percentage, fourth and second in the nation, respectively. He surrendered six goals Saturday, and had previously given up four or more goals in a single game just three times this season.
"Adam gave us a great year," said Lucia. "We wouldn't be here if it wasn't for him during the course of the season. It wasn't an easy game for him."
Lucia said he couldn't have been prouder of the entire team, a young squad that likely overachieved by the coach's estimation.
"You know, our guys tried," said Lucia.
That two minutes late in the first, said Lucia, wasn't a result of a lack of effort. In fact, it was just the opposite.
"I think some of that was just trying too hard, trying to do somebody else's job," said Lucia. "But that's going to happen in a game of this magnitude. With their effort and how hard they wanted to win, sometimes you want to win too hard, too bad. You wanted to chase rather than just play your position."
"I think we just made mental mistakes," said Kloos. "I don't think you can look at anyone in our locker room and say they weren't physically trying their hardest, but mentally I think made a few too many mistakes in that segment."
"We made mistakes that we haven't been making all year," said junior forward Travis Boyd. "[We] didn't pick a great time to do it because there is no excuse for it today.
"And there is no other game where you can make up for it."