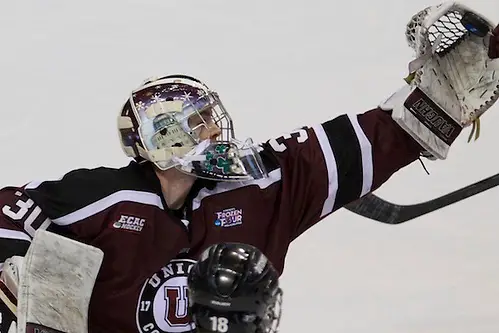 PHILADELPHIA — When you're named the first-team All-ECAC Hockey and second-team All-American goaltender, you've won a lot of games for your team. The guys in front of you have left you out to dry many a time, and you've saved their bacon. A lot of their bacon.
But then there are times when you need the favor returned.
2014 Frozen Four
Follow all of USCHO's coverage at Frozen Four Central.
One of those came on the biggest stage of the year. Union had advanced to the national championship game for the first time in the program's history, in part thanks to goaltender Colin Stevens. The Dutchmen were facing Minnesota, a team that had appeared in the title game 11 times and won it all in five of them.
It didn't take long for things to go wrong.
Just 2:37 into the game, Stevens fielded a shot but the puck dropped unbeknownst to his feet. Justin Kloos swooped in and knocked it into the net for a gut-wrenching early Gophers lead.
OK guys. My bad. Pick me up.
Shayne Gostisbehere responded with a tying goal at 9:26, but just 37 seconds later, Stevens gave it back. After a Kyle Rau wraparound attempt, Stevens was slow to get back up — too slow — and as he lay prone, body pointed to center ice, Sam Warning fired the puck from along the goal line into the open net.
Two bad goals?
Two?
The contest was barely more than 10 minutes old and the unthinkable had happened. In the biggest game of his career, Stevens had given up not one, but two, bad goals in the early going.
"Obviously, I was nervous going into the national championship game," Stevens admitted. "A couple of the goals I definitely would have wanted back."
It was left to his teammates to pick him up as he'd done for them so many times.
"He might want to have one of those back, but he made some huge saves throughout the game," Mat Bodie said. "I think Steve-o played a great game.
"But Shayne really picked us all up with that first goal and got us going. We just expect guys to pick each other up and that's what we tonight."
And, oh, how they did it. Union scored three times in less than two minutes to seize a 4-2 lead they never surrendered.
Early in the second period, Minnesota scored on the rebound after a prolonged flurry, but Stevens made stop after stop after that. He'd finish with 17 saves in the period, none more impressive than when Kloos broke in, forcing a spectacular pad save on him and then Taylor Cammarata on the rebound.
"The more shots I faced, the more confident I felt," Stevens said. "And the guys did a great job in front of me. Hats off to them."
Max Novak scored an insurance goal in the third period that soon became huge because Minnesota's Hudson Fasching responded with a power-play goal with 3:40 remaining on to make it 5-4.
3:40.
A lifetime.
But Kevin Sullivan scored a backbreaker on the transition to seal the deal at 18:38, and Bodie added an empty-netter soon after. Union had secured its first NCAA hockey championship.
After the rocky start, Stevens stood tall, finishing with 36 saves.
"I didn't play my best game, but it was good enough to win and that's all that matters," he said.
National champions.
"I can't even put into words how good it feels," Stevens said. "It's kind of surreal right now, but it's every kid's dream to win a national championship. I can't wait to bring the title home to Schenectady."