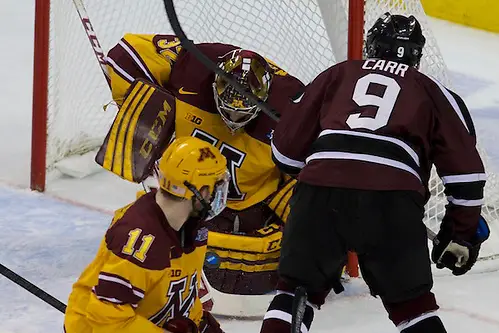 PHILADELPHIA — It took nearly two decades for Union to transition from an afterthought to a national contender. But the Dutchmen finished their ascension in a decidedly quicker fashion, scoring three times in a 1:54 span late in the first period en route to the program's first-ever national title Saturday night at the Wells Fargo Center.
It was a stunning stretch for a team that's compiled plenty of quick scoring bursts this season, perhaps none bigger than against the Golden Gophers.
2014 Frozen Four
Follow all of USCHO's coverage at Frozen Four Central.
"I think that's been a staple of our team all year, that we come in waves," Union senior captain Mat Bodie said. "You really felt that at the end of the first there. I thought we really carried the play for a stretch of time there. All three of those goals were pack-of-wolves goals, where guys were on net, and second and third chances. I think that's probably one of the biggest staples of our team all year."
Mike Vecchione started the scoring streatch at 15:09, shoving a rebound past a sprawled-out Adam Wilcox and over the head of Minnesota forward Kyle Rau, who had slid into the crease to try to cover for his goalie.
The Dutchmen went up for good at 16:06, winning an offensive-zone faceoff and then scoring when Eli Lichtenwald grabbed a rebound and flipped a shot over a falling Wilcox that trickled into the net.
Daniel Ciampini followed his hat trick against Boston College on Thursday with a score from close in, crashing the net and snapping a shot into the exposed right side of the goal to make it 4-2 at 17:03.
"Just being around the net, and guys buying in and going to those hard areas," senior forward Daniel Carr said. "Daniel Ciampini did a great job with the puck there. … Mike Vecchione put it right upstairs. When we talk about Union hockey, those are the areas that we want to go."
That three-goal sequence was the fastest scoring stretch by a team since Colorado College scored a trio of goals in a 1:54 span during the third period of the 1957 championship game.
"I like to write a few things down after goals and it seemed like I was grabbing that notepad and pen and writing pretty furiously there," Union coach Rick Bennett said. "So it was a good time to write. It was just an explosion. That's what this team can do at certain times."
That span capped a dominating season by the Dutchmen, who started their slow, steady ascension to national prominence with the school's first NCAA tournament appearance in 2011. They've been back every year since then and have also won three consecutive Whitelaw Cups.
Union ended the season on a 17-game unbeaten streak and finished with 32 wins, the most in the country as well as in program history.
Despite those impressive accolades entering the Frozen Four, some observers incorrectly pegged the Dutchmen as the long shots among the four teams in Philadelphia.
"I said earlier this week that we never looked at ourselves as Cinderella," junior defenseman Shayne Gostisbehere said. "We looked at ourselves as Union College and we're just a team trying to win the national title. I guess we proved all those people wrong."