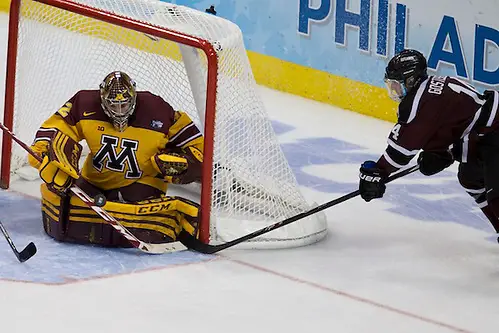 PHILADELPHIA — There's a growing number of analysts within the hockey community that look at plus-minus as an overrated statistic.
A player's plus-minus number is a cumulative figure that ticks up when that player's team scores a goal with him or her on the ice and goes down when they concede one with him or her out there.
2014 Frozen Four
Follow all of USCHO's coverage at Frozen Four Central.
It's true it's not always the biggest thing you can point to in terms of a player's performance in a game, but it's often something that tells you who seemed to be everywhere out on the rink.
Union's Shayne Gostisbehere finished Saturday's Frozen Four championship game, a 7-4 win for the No. 1 Dutchmen over No. 2 Minnesota, with a plus-7 rating.
Just to confirm, we aren't talking about plus-7 on the season, although that wouldn't be unheard of for a lot of players.
Coming into the Frozen Four at Wells Fargo Center, however, the junior defenseman led Union with a plus-28.
He was plus-7 just in the final game of the season, one that saw the Dutchmen pick up their first national championship.
"A plus-7 is pretty staggering," Union coach Rick Bennett said. "And maybe some of the plays he wasn't really a part of, but just his presence out there does create something, because you've got to be aware [he's on the ice].
"That's a sign of a great player. I thought their defensemen over at Minnesota, No. 5, [Mike] Reilly, was phenomenal tonight for them, too, so I can see that type of pressure when you have a guy like that back there, and we're fortunate enough this year to have had [Shayne] out there as a guy you have to be aware of."
Gostisbehere, a third-round NHL draft pick of the Philadelphia Flyers two years ago, was a machine on the home ice of the team with whom he may soon sign. He was asked about it late Saturday during the Dutchmen's postgame news conference, but he was noncommittal in his answer.
He scored Union's first goal of the game 9:26 into the contest against the Golden Gophers, and he assisted on two other tallies, including forward Kevin Sullivan's strike with 1:22 remaining that put the contest to rest.
Hockey, like any sport, is meant to be fun to play. It's always going to be when a player contributes like Gostisbehere did this season and especially in the team's Frozen Four games against first Boston College and then Minnesota.
What makes it even sweeter is that his and his team's accomplishments Saturday came in front of a distinctly pro-Union crowd cheering on the Schenectady, N.Y., school.
"All the support we have is just amazing, and it makes me want to play the game," Gostisbehere said. "The game's just fun, just playing every day and going to the rink with [my teammates] having fun and just winning at the same time, it's a good combination and something you can't describe."
Whether Gostisbehere will forgo his final season of eligibility and sign with the Flyers is really a story for a different time. Saturday night was for him to celebrate with the teammates with whom he put on a masterclass on college hockey's biggest stage.
"When I'm playing with my teammates, nothing else matters," Gostisbehere said, "And we're just having fun out there and when everything's clicking, it's amazing.
"We go down a goal both games here in the Frozen Four and we just bounce back like it's nothing, like we've been there before. It starts with the leadership with 'Bodes' all the way down. It's just amazing what our team can do, and I'm glad it all paid off in the end."