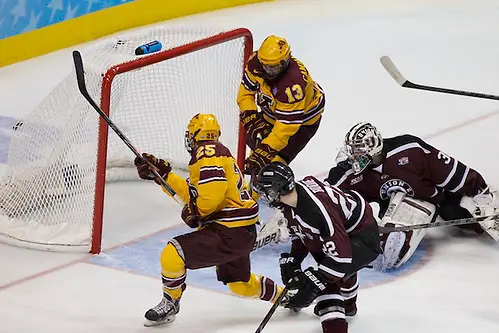 PHILADELPHIA — Union coach Rick Bennett and Minnesota's Don Lucia both had high praise for their freshman classes after the Dutchmen's 7-4 victory in Saturday's national championship game.
"The freshmen (Justin Kloos, Taylor Cammarata, Hudson Fashing) scored three of the goals tonight," said Minnesota coach Don Lucia. "It always [tough] when you lose your final game of the year, but … for the freshmen, it's part of the process that you learn from. Hopefully they can take this [loss] as we begin next year and take another step forward. A lot of them have had great years for us, and we wouldn't be in the position we're in without them."
2014 Frozen Four
Follow all of USCHO's coverage at Frozen Four Central.
On the Union side, rookies Mike Vecchione and Eli Lichtenwald scored for the Dutchmen.
"Yeah, let's hope our future is bright with those guys, said Bennett, "Because they did an excellent job this past season."
All-tournament team
Goal: Colin Stevens, Union
Defense: Mat Bodie, Union
Defense: Shayne Gostisbehere, Union
Forward: Daniel Ciampini, Union
Forward: Kyle Rau, Minnesota
Forward: Sam Warning, Minnesota
Most outstanding player: Shayne Gostisbehere, Union
A real plus
Gostisbehere, who had a goal and four assists on the weekend was an amazing plus-7 in the title game, after recording a minus-2 in Union's semifinal win over Boston College.
"A plus-7 is pretty staggering," said Union coach Rick Bennett. "He's, you know, maybe some of the plays he wasn't really a part of, but just his presence out there does create something, because you've got to be aware. That's the sign of a great player."
Making an impression
Gostisbehere, a third round draft pick by Philadelphia, was under a microscope this weekend and responded, treating Flyers fans to a preview of what they can expect in the near future. His performance recalled that of Thomas Vanek, who was named the most valuable player of the 2003 Frozen Four in Buffalo, leading Minnesota to the national championship.
"Yeah, it's definitely pretty cool," he said on winning a title in Philadelphia. "But when I'm playing with my teammates, nothing else matters."
To beat the best …
Union was ranked No. 1 in the USCHO.com poll, but was the No. 3 seed heading into the tournament. To win the title, the Duthchmen had to go through second-seeded Boston College and top seed Minnesota.
"If you looked at the end of the year, there were kind of three teams that were BC, Minnesota, and Union, that were right at the top," said Lucia. "Union beat BC and Minnesota back-to-back, and they certainly earned their national title. They're an outstanding team."
Attendance and atmosphere
The championship game drew 18,742 to Wells Fargo Center, the sixth-highest crowd for a championship game.
However, not every seat was filled. The arena seats 19,537 for hockey. It marked the second time in a row the national title game was not a sellout after 11 straight years with capacity crowds (not including the unique situation in 2010 where 37,592 were in attendance at cavernous Ford Field).
But a few empty seats didn't dampen the atmosphere, which was electric for all three games.
"I thought Philly did a tremendous job as a venue," said Lucia. "I thought they had a great atmosphere in the building tonight. … I thought it was a great environment for a national championship."
"I noticed the Union faithful out there for sure," said Gostisbehere. "I saw the fans in the stands, and they looked pretty happy. My mom was crying, of course. It was really awesome."
"I don't think many guys really took in the atmosphere during the game, but once that buzzer sounded, you look up and it's a big building," said Union defenseman Mat Bodie. "I didn't realize how high the stands went up. It was just an incredible moment for me to soak it all in and see that jam-packed building. But like I said, during the game we were just all business. I hope everyone got to take it in at the end of the game there."
Notes
• Union became the 21st Division I men's hockey program to win a national title. Three of the last four seasons have seen a school win its first title after 17 seasons of wins by teams that had previously won a championship.
• It was the seventh championship game loss for Minnesota, a record. Boston College has lost six times in the title game.
• The 89 shots on goal (49 by Union; 40 by Minnesota) was a record for a regulation NCAA title game. Bowling Green and Minnesota-Duluth combined for 96 in a four-overtime championship game in 1984.
• Coming into the game, Minnesota was 18-0-5 when scoring the first goal this season.
• Union became the third Division III school to win a national title. Colorado College (1950 and 1957) and RPI (1954 and 1985) are the others.
• This season, all four NCAA hockey championships were won by Division III institutions. Clarkson won the D-I women's championship (also over Minnesota). St. Norbert (men) and Plattsburgh (women) won D-III titles.