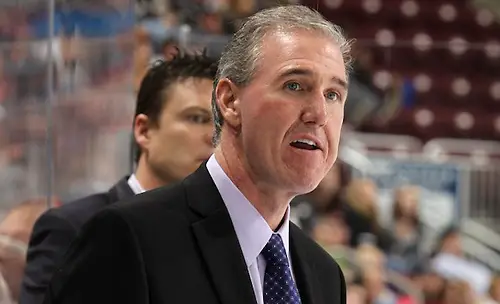 Whenever an NHL coaching job becomes available, it always seems that Mike Haviland's name pops up as a potential candidate.
After all, winning a Stanley Cup and two ECHL championships as a coach brings that type of notoriety to an individual's resume.
That said, when Scott Owens left Colorado College's bench earlier this offseason, names were tossed around on message boards, blogs and social media as to who would take over and help get the Tigers' program back to its previous winning ways.
In the end, only one name made sense — Haviland.
"I've always said that CC is one of the premiere coaching jobs in all of college hockey," said Haviland. "It's a program that is committed to excellence not only on the ice, but also in the classroom. You put all three of those things together and it's easy to see why this is one of the top programs in all of college hockey."
The 47-year-old Haviland, an assistant for the Chicago Blackhawks during their 2010 Stanley Cup title run, also hoisted the Kelly Cup as a head coach with the ECHL's Atlantic City Boardwalk Bullies in 2003 and Trenton Titans in 2005.
Most recently, he was the head coach for the AHL's Hershey Bears, the top affiliate for the Washington Capitals, and in 2012-13 was the associate head coach for the AHL's Norfolk Admirals.
"In my 20-plus years of coaching, I've been fortunate to win a few times, but more than anything, at any level, I believe I'm a teacher on and off the ice," Haviland said. "At CC, I want to bring that knowledge to these kids and create a culture, create an atmosphere that is conducive to success.
"My philosophy on coaching is that no matter what level you coach, hockey is hockey. You want to build relationships, whether it's with world-class athletes in the NHL, in the AHL, ECHL or college. You have to teach and you have to be a communicator. Repetition, video, things like that will be how we'll start right from day one and we'll look to see those relationships nurture over the course of the season."
Haviland, who has coached at the NCAA Division III level for his alma mater Elmira, said his defense-first scheme fits with the college style of game, especially at Colorado College.
"Defense wins championships, and that starts from the cage out," Haviland said. "You have to get all five players on the ice to commit to that and have all five players in each zone. That said, I'm a coach that likes to see my teams get after it, play a puck-possession game. It's hard to get the puck and once we get it, I'd like to not give it away. Our team will play with confidence and will make plays."
And yet, Haviland inherits a Tigers team that was on the winning side just seven times last year.
Still, he doesn't see his job description as rebuilding at all.
"The way I look at it is this," said Haviland. "CC played 17 one-goal games last season, so the talent is there to compete with the best teams in the country. There is definitely something here we can work with and build on and maybe with a new coach, we'll get after the details and have a new voice, new thoughts and new vision."
Haviland added that with everything happening rather furiously in interviewing for the job, getting the post and now getting acclimated to Colorado Springs on top of finding a new residence, he still has a team to start looking after, which will start with game film review.
"Once CC got the OK from Washington to talk to me [about the job], everything came on board quickly and everything worked out," said Haviland, who said his contract is a multi-year deal. "Colorado College did their due diligence and I'll be honest, the whole process was very grueling, but I am very, very happy with how it turned out."
Still, with Memorial Day knocking on the door, that only means that summer is on deck — hardly an offseason in Haviland's book.
"I have high expectations for this team next year, and also for myself," said Haviland. "We'll get our conditioning program going here very shortly, which I will monitor closely, and I want our players to be in the best shape of their lives. We want to hit the ground running come September and October.
"We want to keep building and above all else, we want to win. And win right now. That's the goal."