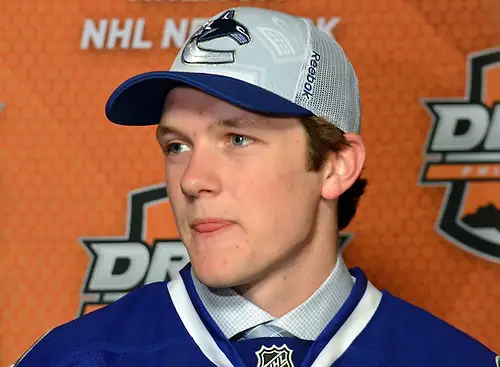 PHILADELPHIA — It was expected that Thatcher Demko would stride to the stage sometime during the first round of the 2014 NHL Entry Draft, held this weekend at the Wells Fargo Center.
He didn't.
It was further expected that coming off a strong freshman season at Boston College, Demko would be the first goaltender off the draft board.
He wasn't.
Even so, don't assume that Demko's second-round selection by the Vancouver Canucks, 36th overall and two spots behind fellow netminder Mason MacDonald (by Calgary), left him feeling the least bit sour.
He isn't.
Instead, the San Diego native was overjoyed to be going to the same club that selected former Eagles goaltender Cory Schneider 10 years earlier.
"I'm beyond happy right now," said Demko. "I can't even put it into words."
Demko, who as a rookie backstopped BC to a Frozen Four berth, said that having to wait an extra day to be selected was a little nerve-racking, but that he tried his best to stay in the moment.
"You're kind of anxious just sitting in the stands," he said. "Each team goes up and you're hoping to hear that name called. You can't really expect anything. [Friday] was a fun night, though."
And Saturday morning was even more fun. When the draft resumed with the second round, Demko scarcely had to wait before finding out he was going to be property of the Canucks.
"I was just glad to hear my name called," he said.
Demko was the first of eight college players or commits to be taken in the second round, after four commits were made first rounders on Friday.
Among the second-rounders was defenseman Brandon Montour, a Massachusetts commit.
Completely bypassed in last year's draft, Montour parlayed a strong season with Indiana's USHL Clark Cup winners into a second-round selection (55th overall) by the Anaheim Ducks.
Forward Ryan Donato, who is committed to Harvard, where his father Ted is head coach, was taken one spot later by his hometown Boston Bruins, for whom dear old dad once played.
Apple, meet the base of the tree.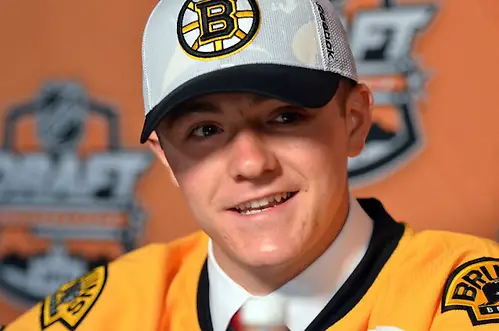 "I'm still shaking right now," said Donato. "I knew when they announced that it was going to be the Dexter School (where Donato has one more year to go) that it was going to be a special night. I'm pretty excited with the pick, and I know this is where I wanted to be. It's really special for me and my family. It's pretty much a dream come true."
Donato said that it will be special, yet business as usual, to play for his father, which he will do after a year in the USHL with Omaha.
"Me and him have a good relationship, and I think it's going to be beneficial because he's not going to be afraid to tear me apart as much as any other guy," he said. "So I think it's going to be good and I think he'll get me ready the fastest to hopefully play NHL hockey."
Several more college-bound players were selected in Rounds three through seven, including Minnesota commit Jack Ramsey, a right wing who was the third-to-last player taken, (208th) by the Chicago Blackhawks.
In all, 62 current or committed college players were selected over the two days, covering 31 of the 59 NCAA Division I teams.
Boston College and Boston University each had five players or recruits selected, leading all schools.