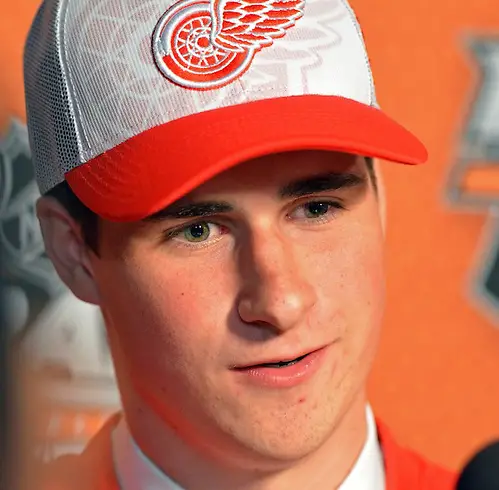 PHILADELPHIA — Roll call began in earnest midway through the evening Friday, and when it was through four college-bound hopefuls became first-round NHL Entry Draft choices.
Forwards Dylan Larkin, Sonny Milano, Alex Tuch and Nick Schmaltz all heard their names called by NHL teams looking to restock on the first day of the annual draft, held at the Wells Fargo Center.
The picks came in a flurry, too, once Larkin, a Michigan commit and Detroit native, was taken 15th overall by his hometown Red Wings.
Right behind came Milano, 16th by the Columbus Blue Jackets, followed by Alex Tuch, his future Boston College teammate, who was tabbed 18th by the Minnesota Wild.
The brisk run on collegians ended when North Dakota incoming freshman Schmaltz was taken 20th by the Chicago Blackhawks.
For Larkin, a left wing and lifelong Red Wings fan, the night couldn't have gone better.
"I went to Wings games as a kid," he said. "I know you can't be picky. But in the bottom of my heart, I wanted it to be Detroit."
It's likely to be at least three years before Larkin ever wears the Winged Wheel. In the meantime, he plans to use his time at Michigan to develop his game, as well as his physique.
"I'm looking at building up my strength to play at the next level," Larkin said. "Even in college you have to be strong. It's going to be important to get in the gym and build up my body."
Larkin said he has no plans to rethink his college decision and bolt for major junior, where his rights are held by the Erie Otters of the OHL.
"School's always been important to my family," he said. "I always wanted to go to college."
While Larkin needs no introduction to the Motor City, Milano, who said he's never been to Columbus, will have to get acquainted with his future pro home in the Buckeye State.
He did however, play a season of junior with the Cleveland Lumberjacks under former Blue Jackets player Brett Harkins.
Despite his lack of familiarity with the Jackets, Milano was buzzing about having been chosen by them.
"It's surreal right now," he said. "I've worked my whole life for this. It's unbelievable."
In the near term, Milano hopes to pick up some of the offensive slack for the Eagles, who lost offensive stalwarts such as Johnny Gaudreau and Kevin Hayes.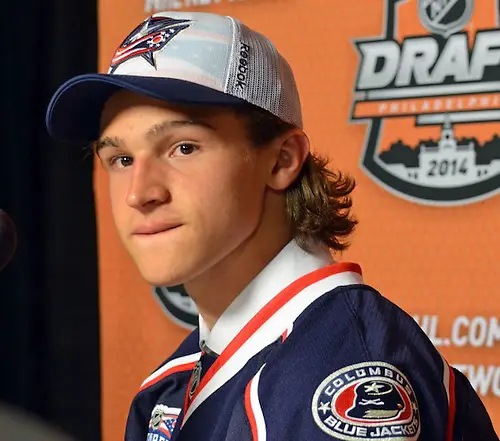 "[Gaudreau] is a skill player," said Milano, who could well end up as Tuch's linemate at BC. "You see what he did there. Maybe I'll try to model [myself] after him."
Schmaltz was chosen five spots earlier than his brother Jordan was in 2012 by the St. Louis Blues.
The two will be teammates at North Dakota but are bound to become bitter rivals as pros.
"I wanted to be a Blackhawk," said Schmaltz. "It's a perfect fit for me. This is a huge honor for me, but now the work starts."
The remaining six rounds will be staged Saturday, and likely will see plenty more college players drafted.