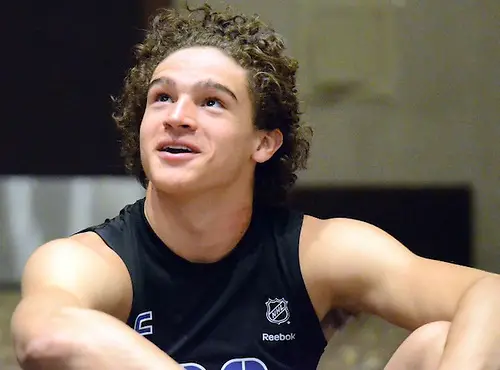 Analytics is the latest buzzword in sports, so here is something to analyze.
Friday should be a good day for college (and college-bound) players in the 2014 NHL Entry Draft.
Why so?
Well, it's an even-numbered year, so of course you're going to hear several collegians called to the podium as first-round choices during the opening night of the two-day draft being held this weekend at the Wells Fargo Center in Philadelphia.
To wit: The 2010 draft saw eight college-bound players — led by Colorado College's Jaden Schwartz, taken 14th overall by St. Louis — nabbed in the first round.
The following year, only two — Jamie Oleksiak (Northeastern) and Tyler Biggs (Miami) — were taken as No. 1s. By the way, both of them turned pro after their freshman years.
In 2012 (yep, another even-numbered year), six collegians or commits were first-round choices. Winnipeg used the ninth overall pick on Michigan's Jacob Trouba.
But last year? Don't ask if you don't want to know the answer.
Just one college commit heard his name announced in the first round in 2013 — Mike McCarron, tabbed 25th by Montreal. McCarron, a Detroit native, was headed to Western Michigan but opted instead to go East along the major junior route to London of the OHL.
Starting to see a trend?
If so, then get ready to see the bar bend upward again.
Despite the hit-or-miss appearances in the first round, NHL teams have always been serious about scouting, drafting and developing college players.
You can ask Buffalo Sabres general manager Tim Murray, who holds the second pick in the draft and likely will use it to select center Sam Reinhart of Kootenay in the WHL.
However, Murray is feverishly trying to acquire another first-round pick in hopes of stashing him in college for proper grooming.
"They [college players] are useful," Murray said. "If you draft them out of the USHL or Tier II in Canada and they're going to college, you basically own their rights for four years, which is a good thing. It's a longer development process, versus junior which is two years.
"If you look at our depth chart, we have more college players than junior players. You have guys like [Hudson] Fasching [of Minnesota] and [JT] Compher [of Michigan] who we think are very good prospects."
When asked, Murray hinted strongly that forwards Alex Tuch or Sonny Milano, both of them committed to Boston College, might be one of his team's mid-first-round targets.
"They are on our radar, they're in play," Murray said. "And if you read between the lines, maybe that's why we're trying to trade for another first-round pick."
While the top of the first round is expected to be dominated by major junior and European prospects, the NHL's own draft pundits project as many as five collegians will taken in round one.
Included are freshmen-to-be Tuch, Milano, Dylan Larkin of Michigan and Nick Schmaltz of North Dakota, all of them forwards.
Then there is goaltender Thatcher Demko, who is coming off a strong freshman season at BC.
Demko, who hails from San Diego, is widely viewed as the top netminder in the draft and may be the only one taken in the first round.
By the way, Buffalo is in the midst of a massive rebuilding project after finishing last year with an NHL-worst 52 points.
College prospects — and the Sabres have a bunch of them — are expected to play key roles in their hoped-for rise from the ashes.
Five collegians in Buffalo's closet — Compher, Fasching, Sean Malone of Harvard, Connor Hurley of Notre Dame and Anthony Florentino of Providence — all products of the 2013 draft, have been named to the USA Hockey World Junior tryout camp roster.
And that number may grow as of Friday or Saturday.
"We have a lot of Americans," said Murray. "It's great. Five guys off of one organization invited to a World Junior camp, I don't know if it's happened before. I'm proud of that, and I think a few of them have a legitimate shot at making it. You have to be an elite player at that age group to be involved in a camp like that. It shows we have some elite young players in our organization. That's really positive."