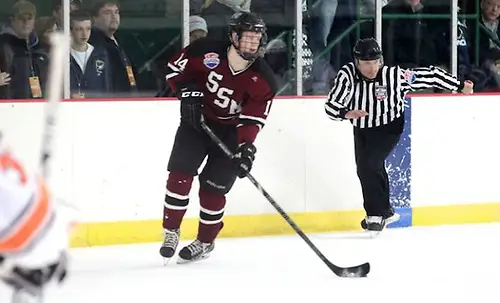 The weighing pan pitting Chase Phelps' penchants for physical and mental challenges is in endless equilibrium. Look no further than his decision to eschew major junior hockey and enroll at Boston University when he had options closer to home.
Phelps, an Edina, Minn., native and 2014 NHL draft prospect out of Shattuck-St. Mary's prep school, said that Minnesota, Minnesota-Duluth and North Dakota were on the table. But then an eastern excursion gave him a captivating glimpse of NCAA hockey's time-honored crosstown clash on Nov. 8 of last season.
That was when he witnessed a familiar compete level in unfamiliar territory.
"When I was out there, [Boston University] played Boston College," he recalled. "They didn't end up on top that night, but I saw how they battled in that game. No one gave up. And the rivalry between BU and BC, I wanted to play in that game."
Terriers coach David Quinn caught on to that craving. In announcing Phelps' commitment, the bench boss described the left wing as "a hard-nosed player that never takes a shift off."
Phelps — and whichever team might select him Friday or Saturday during the NHL Entry Draft in Philadelphia — hopes that habit will help him emerge as a hidden gem. It is a habit he honed over four years of studying and skating at the prestigious Faribault, Minn., school.
See all of the college or college-eligible players ranked by Central Scouting for the 2014 NHL Entry Draft.
Phelps completed his youth career with 66 points in 53 games, including five in six national tournament games as the Sabres claimed their ninth title in program history.
The storm that culminated in that April 6 championship game warmed the control chair for a tempest. In the 54 days between the title tilt and his commencement ceremony, Phelps tackled a sequence of scholastic tasks and select tournaments in hopes of emboldening his impression on NHL scouts.
"It was tough trying to get everything done with all the stuff going on, but Shattuck's a pretty understanding school," he said. "When we were at nationals, all the teachers understood. They're pretty flexible."
Shattuck is more than a decade into its annual ritual of producing candidates for the NHL draft. It boasts 12 alums who saw NHL action in 2013-14 and four alums apiece who competed in the men's and women's hockey tournaments at the Sochi Olympics.
When taking diversions from his own obligations, Phelps was particularly drawn to bouts between Zach Parise and Jonathan Toews. The one-time Sabres players faced off when the United States confronted Canada in the Olympic semifinals. They sandwiched that Russian rendezvous with 2013 and 2014 playoff series between Phelps' beloved Minnesota Wild and the Chicago Blackhawks.
As a freshman in Shattuck's bantam program, Phelps studied another specimen of elite talent in person. Nathan MacKinnon spent his second and final year in Faribault as a sophomore on the 16-and-under squad in 2010-11.
"People were talking about how he was going to be the next Sidney Crosby, who also went to Shattuck," Phelps said. "Then he ended up getting drafted first overall [in 2013].
"I watched a lot of his games and practices, and he was a fun player to watch, especially at that age. And to see him now with Colorado is fun seeing how he was at Shattuck."
If he gains the auspices of an NHL franchise, Phelps will have followed MacKinnon on three fronts. He played for the Shattuck bantams one year after the Avalanche rookie sensation. Ditto the 16-and-under team, to which he elevated for the 2011-12 campaign.
But a fulfilling camp with the Western Hockey League's Lethbridge Hurricanes notwithstanding, he did not follow MacKinnon to the Canadian major junior ranks. A self-assessment yielded a decision to complete his preparatory education and preserve his NCAA eligibility.
"It was a good experience, but I just thought the college experience would fit my game better," Phelps said. "I decided on the college route because I can get the best of both worlds. I can play at a top-tier program with a great hockey tradition and a world-class educational institution. BU is the best place to elevate my game to the next level."
In turn, despite his overlap with MacKinnon, Phelps retained a preference for the path that predecessors like Parise and Toews have exemplified. Neither the captain of the U.S. Olympians nor the two-time Stanley Cup-winning captain of the Blackhawks so much as drew out for a detour through the USHL.
Rather, Phelps stressed, "Parise and Toews are two players that both graduated from Shattuck. It's pretty cool to see how they graduated and moved on to play college and professional hockey."
Members of Shattuck's class of 2002 and 2005, respectively, Parise and Toews each went directly from Tom Ward's capstone club to North Dakota. They each spent two years in Grand Forks before turning pro.
Phelps ranks 163rd among North American skaters eligible for the draft according to Central Scouting, well behind future Boston University teammates Johnathan MacLeod (44th), Brandon Hickey (63rd) and others.
Boston College's Thatcher Demko is the top North American goaltender ranked and a potential first-round pick. Eagles recruits Alex Tuch and Sonny Milano, both forwards, are ranked 12th and 16th, respectively, among North American skaters.
Given his low ranking, Phelps likely will require more development time at BU. It doesn't seem like that would be a problem to him.
It would merely be more of the same as his four years in Faribault. It would entail a maximum of four years of alternating between academic trials and contributing to a nationally renowned athletic program.
Phelps was apt to note that his game broadcast viewing sessions gave him glimpses of previous Terriers torch-bearers as well as former Sabres. The 2014 Olympic and Stanley Cup tournaments featured two-way American blueliner Kevin Shattenkirk of the St. Louis Blues. Shattenkirk, who won an NCAA title in 2009, and the Wild's Charlie Coyle each had a turn confronting Toews' Blackhawks this spring in the NHL playoffs.
Despite BU's downturn in Quinn's first season, going 10-21-3, everything goes back to the spirit exemplified in the BC bout Phelps observed in November.
"I'm so excited to get out there and play at the college level. [BU] has a lot of history and tradition," Phelps said. "It's a great school, a great hockey school and they have a lot of great alums and guys who have played in the NHL, too."