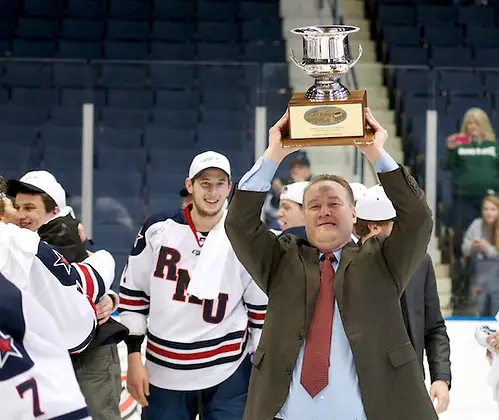 Robert Morris head coach Derek Schooley has agreed to a four-year contract extension with RMU that will take him through the 2019-20 season.
Schooley was previously under contract through 2015-16.
"We're delighted to extend Coach Schooley's contract into the next decade," RMU athletic director Dr. Craig Coleman said in a news release. "He's the founder of the program and he has consistently pushed it to higher and higher levels. With him, the NCAA tournament hasn't seen the last of us."
Schooley's overall record of 143-175-45 covers the program's climb from its inaugural campaign of 2004-05 to its perch as defending Atlantic Hockey conference champion. Last season, the Colonials rebounded from a 2-12-2 start to win 17 of their last 26 games, including a 6-1 run in the AHA postseason tournament.
"I would like to express my gratitude to Dr. Coleman and [RMU president] Dr. [Gregory] Dell'Omo for their incredible support of Robert Morris hockey and our student-athletes over the years," Schooley added. "Their efforts make it possible for our program to achieve the goals we set for ourselves, whether they be on a daily basis or in the form of conference championships and NCAA tournament appearances."
Although RMU fell to top-ranked Minnesota in the first round of the 2014 NCAA tournament, getting to the round of 16 was a large step for the second-youngest program in Division I.
"I feel very fortunate to have started something very special from the ground up," Schooley said. "Making the NCAA tournament was very exciting for not only me personally, but for everyone who has been involved in the first decade of RMU hockey.
"It's hard to believe that we have been in existence for 10 years. It seems like we just started Year 1 yesterday."