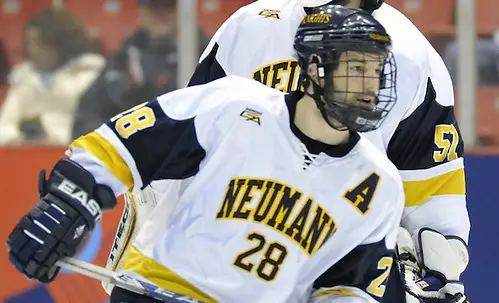 Mike Hedden can tell you what it's like to win a major championship. He's already done it twice.
The former Neumann forward, who guided the Knights to the 2009 NCAA Division III national title, will be adding a second ring to his championship collection after helping the Texas Stars win the 2014 Calder Cup, emblematic of American Hockey League supremacy.
"It feels great," Hedden said in June while driving back home to Ontario shortly after the AHL final. "This one probably tops the list as the best one, though."
The top minor-league affiliate of the NHL's Dallas Stars, Texas defeated the St. John's IceCaps in five games, with Hedden playing a substantial part in the deciding contest.
"He's a really good player," former Texas coach Willie Desjardins said after the Stars won the Cup. "He's improved both years, and he scored a couple of really big goals in the final game."
In Game 5 in Newfoundland, Hedden opened the scoring late in the first period and then pulled Texas into a 3-3 tie with a goal in the third stanza before the Stars won the contest — and the title — in overtime.
"He has good skills, and he was a big factor in our team winning," said Desjardins, now the head coach of the Vancouver Canucks.
Simply par for the course for Hedden, who tallied a school-record 96 goals and added 67 assists for 163 points in 108 games at Neumann from 2005 to 2009. He also scored 46 power-play goals and added 15 game-winners with the Knights after playing junior hockey with the Thorold (Ontario) Blackhawks.
"Mike was a threat every time he stepped on the ice and was a big part of building the foundation of the Neumann program," said Knights coach Dominick Dawes, who coached Hedden in his final collegiate season when Neumann won the national championship.
As a senior, Hedden scored 17 goals and added 20 assists. He also helped the Knights to their first-ever Frozen Four after notching a goal and two assists in an NCAA tournament victory at Plattsburgh, setting up the tying goal late in regulation before the Knights won 5-4 in overtime. They then went on to best Hobart and Gustavus Adolphus to win it all.
"It was an amazing experience," he said of Neumann, where he earned his bachelor's degree in sport management. "It's a small school. You got to know everyone personally, and [then we] topped it off with a national championship."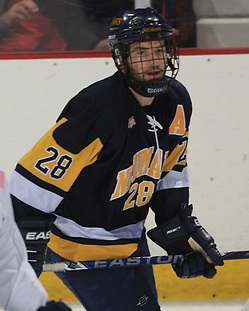 For Hedden, it was literally Neumann or nowhere.
"Actually, Neumann was the only school that contacted me while I was playing Junior B, in the All-Ontario final," he said. "If [former Neumann coach] Dennis Williams didn't come [to that game], I probably would have been done at 20."
Almost a decade later, the 5-foot-11, 190-pound Hedden is still going strong on his skates.
A player from Division III making it to the pros is not an unusual occurrence, but it's often tougher for him to ascend to the higher levels. Those AHL and NHL slots usually go to college players who skated in the Division I ranks, although Keith Aucoin has played in nearly 150 NHL games over the last decade after previously starring at Norwich.
Hedden made the transition to the AHL level by first playing two seasons with the ECHL's Toledo Walleye.
"I never really thought I would have the opportunity," he said. "[Toledo coach] Nick Vitucci really gave me a chance. I went to training camp and earned a spot."
Hedden notched 50 goals and 84 points in his two-year tenure with Toledo and also played in a total of six AHL games with Grand Rapids, Rockford and Rochester in 2010-11.
His professional career continued to flourish after he signed an AHL deal with Texas.
"It's a big adjustment, with the speed and the level of play," he said. "You can adapt pretty quickly if you're given the opportunity."
He again took an opportunity and ran with it, putting up 34 points in 69 games in his first full campaign with the Stars. He added 35 points in 61 games a year later, was subsequently invited to Dallas' NHL training camp last fall and then exploded last season with career highs of 23-32–55 in 74 regular season AHL appearances.
"On any given night we have over 4,000 fans," Hedden said of playing at the 6,800-seat Cedar Park Center in Cedar Park, Texas, outside of Austin. "It doesn't seem like a hockey town, but it is — and playing with 90-degree weather is tough to beat."
Come playoff time, Hedden registered nine goals and 19 points in 21 outings before the Stars skated the Calder Cup around the Mile One Centre in Newfoundland on June 17. He finished with three goals and an assist in the final, with more than a few people back in Aston, Pa., keeping tabs on his trek.
"It has been exciting for the Neumann community to follow his career and the Texas Stars' run to the Calder Cup," Dawes said. "We're very fortunate to have a numbers of guys achieve success and win championships at different levels of professional hockey."
Almost two dozen former Knights players have gone on to skate professionally, either in the minors or in Europe, and Hedden will soon have accomplished both. He won't be back in the Lone Star State next season — he signed a one-year contract to play with Medvešcak Zagreb of the Kontinental Hockey League for 2014-15.
He also won't have a lot of time at home in Canada before embarking upon the next leg of his career in Croatia.
"I have to be there by July 28, so it's not much of a summer," he said.
He won't be going solo, as his girlfriend from Texas will be joining him overseas. Winning the Calder Cup this year also made his decision to move on a bit easier.
"I thought about it the last two years," Hedden said of playing in Europe. "I'm 29, and I want to try to enjoy some of the world and play hockey while I can."
And perhaps add another championship to his trophy case.