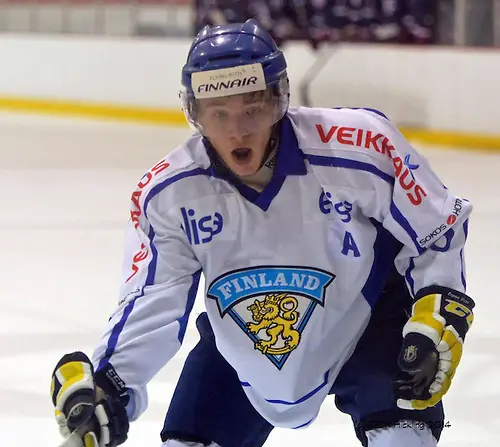 You spy tiny Mika Ilvonen stationed on defense and the question naturally comes.
What's he doing back there?
Shouldn't he be zipping around up front, darting between blue line behemoths while creating scoring chances?
It turns out that Ilvonen, 19, and all of 5-foot-8 and 157 pounds, can do all that and give opposing forwards fits at the same time.
That's what has put Ilvonen squarely in the mix to help Finland defend its gold medal when the World Junior Championship gets underway in Toronto and Montreal the day after Christmas.
The Finns held their evaluation camp in Lake Placid, N.Y., at the Olympic Center's USA rink in consort with the Swedes and the U.S., giving Ilvonen, who will head to St. Cloud State in the fall, a chance to test out his game on the narrower NHL-sized ice, the same dimensions (200×85) used for this year's WJC.
"You have to make decisions pretty fast," Ilvonen said in English that is inflected but impeccable. "You have to know what you're doing before you get the puck. When you get to the corner, you have to know what you're going to do if you get the puck. That's going to help me learn to play on smaller rinks."
While Ilvonen's own physical dimensions may be limited, his ability to get the most out of his stature is not.
Who needs brawn when brains — and breathtaking speed — will do?
"Skating is my No. 1 asset," Ilvonen said. "Moving the puck smartly. I don't try to throw the guys around, but I try to use positioning.
"I kind of like the small rink because the decisions come like that," he said with a snap of his fingers. "You have to be inside the game all the time."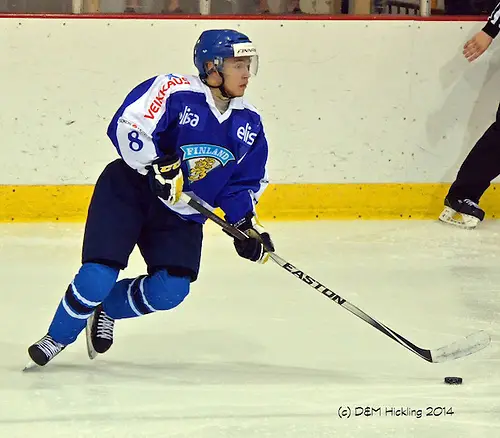 Ilvonen has seen his stock rise at each level of his five-year climb through the Espoo Blues system, his hometown club.
He piled up 14 goals and 45 points for the Blues U20 team, for which he wore the "C." That made him a cinch to net a WJC invite.
"I played a good season and was the captain of the team that won the championship," he said. "I scored a lot of points as a defenseman. The coaches know me, and I played a good season last year.
"Step by step. That's been my thing. I think I have a couple steps to make that team."
Ilvonen and the rest of the Finns, including fellow defenseman Erik Autio (a Penn State incoming freshman), will have a tough act to follow.
After all, how do you top a gold medal-clinching goal like the one Rasmus Ristolainen scored in overtime against archrival Sweden, in Tre Kronor territory, no less?
"It's a dream," Ilvonen said. "When he scored the goal, my first thought was, why can't I be Ristolainen? To be at that place, at that time of game. It was a great thing."
Who is to say he won't find himself in that spot, too?
Meanwhile, Ilvonen will get to ready himself at St. Cloud, where he will meet up again with fellow Blues alums Kalle Kossila and Rasmus Reijola.
Which begs a few more questions:
Why give college hockey a try? And why St. Cloud?
For one thing, Ilvonen, who went undrafted by the NHL, hopes to follow the path blazed by the likes of Torey Krug and Chad Ruhwedel.
Both of them are undersized defensemen who slipped through the cracks but made themselves NHL-worthy free agents in college.
"I thought I could take this route and that could be a good option for me," Ilvonen said. "Plus, you get the education. That's a smart option for me. Good hockey and good education."
And good vibes, too.
That's what Ilvonen got from the school after making a visit last fall.
"They were very warm to me," he said. "They wanted me there. That was the No. 1 thing. That's why I chose St. Cloud. They are close, but they are not yet at the top. They need one little click, and I'm ready to help them take that."