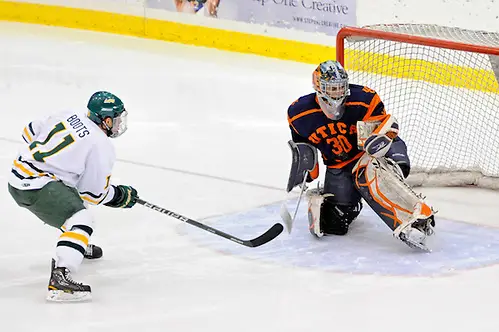 Months after completing his four-year career as a goaltender at Utica, Nick Therrien has been hired as an assistant coach at Plymouth State.
Therrien was 45-17-3 with a 2.31 GAA and .915 save percentage in his career at Utica, where he led the Pioneers to the national semifinals as a junior.
"We are very pleased to add Nick to our staff," Panthers coach Craig Russell said in a news release. "It's clear that his values as an individual line up with our team values and our overall style. He's been a part of a program that had a lot of success while he played an integral role and I believe that he will be able to bring those experiences to the bench with us.
"In our meetings I can tell that he is extremely passionate about coaching and will be able to play a role in every aspect of coaching while he's here."
Therrien will be attending graduate school at Plymouth State with a concentration in Athletic Administration.
"It's an amazing opportunity to be able to start my coaching career at Plymouth State University," Therrien said in a news release. "I already know Coach Russell will be a great mentor for me the next two years. I can't wait to get to campus and get to know all the players as we work toward another MASCAC championship."