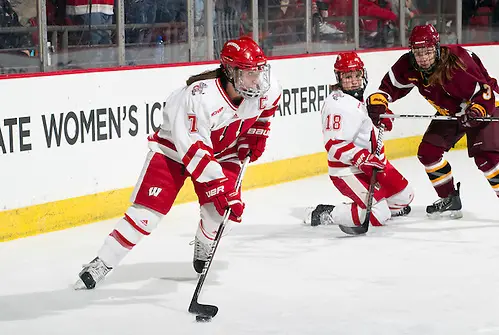 Wisconsin's all-time leading scorer and two-time Olympic silver medalist Meghan Duggan is returning to the collegiate ranks as a new assistant coach at Clarkson.
Duggan joins head coach Matt Desrosiers and newly hired assistant coach Britni Smith in guiding the Golden Knights.
"I am very excited to welcome Meghan to our staff here at Clarkson," said Desrosiers in a statement. "With her wealth of experience as a player and proven leadership abilities, she will certainly be a great mentor to our players. Meghan's passion and work ethic will be contagious to not only the players on our roster, but also to the young women we are recruiting.
"She is a great ambassador of women's hockey and will prove to be an excellent role model for young females in our community. I am looking forward to getting Meghan on campus so we can sit down as a staff with Britni and start planning how we will defend our national championship. I personally am excited to learn from Meghan and Britni as they both have a lot to share."
Duggan skated in both the 2010 and 2014 Winter Olympics, serving as USA's captain at this past year's Winter Games in Sochi, Russia. A native of Danvers, Mass., Duggan also represented the U.S. at five Women's World Championships, capturing a gold medal four times (2008, 2009, 2011, 2013) and one silver (2007).
"I'm honored to join the Clarkson University women's hockey coaching staff and excited to work with such a talented group of players," added Duggan. "I would like to thank Matt Desrosiers and the athletics department at Clarkson for the opportunity to coach while continuing to train and compete for the U.S. Women's National Team and in the CWHL. I'm eager to get started and look forward to helping the Golden Knights move forward with another successful season."
A star forward in college for four seasons (2006-09, 2010-11) at Wisconsin, Duggan helped to lead the Badgers to three national titles (2007, 2009, 2011) and graduated in 2011 as the leading scorer in school history with 238 points on 108 goals and 130 assists in 159 career games.
Duggan was also honored with the 2011 Patty Kazmaier Award as the top player in NCAA D-I women's hockey.