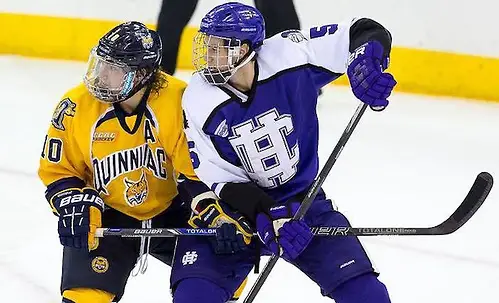 Two years ago, Ben Kaplan was your typical college hockey player. He was a freshman for Holy Cross, a 20-win team bound for a first-round bye and third-place finish in Atlantic Hockey.
Appearing in 10 games, he registered a goal in his fifth appearance, a home game at the Hart Center against Niagara.
Off the ice, Kaplan was a budding academic at the institution with your typical college social life. Entered into a competition along the lines of the TV show "Shark Tank," in which entrepreneurs make business pitches, he looked at his own life and wondered how he could use his life experiences.
"One thing about college kids is that we're always asking the same question about who's doing what," Kaplan said. "There was really no simple way to make or organize plans. You always had group texts, and you could meet up to talk about it in the dining hall, but there was no forum to look at for imminent plans."
So Kaplan's business idea was born. Presenting before Holy Cross business alumni, Kaplan won the competition with WiGo.
Short for "Who Is Going Out," WiGo was an idea for a mobile app that college students could use to see who on their college campus was doing what, who was going where, with message capabilities. It wasn't necessarily to make plans but more or less to look at a collegiate social life and say, "Where's everyone going, and what can I do tonight?"
With help from the alumni who witnessed his idea, Kaplan found himself implementing his idea between his freshman and sophomore years at Holy Cross.
"We launched the app at Holy Cross, and it really hit right away," said Kaplan. "Within three weeks, 50 percent of all iPhone users on campus had it. Of those 50 percent that had downloaded the app, 95 percent used it."
The app is a simple user interface that allows users to say they're going out while allowing them to message other people on campus. It allows the users to tell everyone where they're going out, whether to a bar, tailgate, dorm party or event.
Between the groups, it also allows people to message one another to encourage them to go somewhere or do something. The success was buoyed by a word-of-mouth viral marketing scheme aided by the Crusaders hockey team.
As interest in WiGo grew, Kaplan found himself juggling different personas. He played in 29 games for the Crusaders last season, registering five points on the blue line. Holy Cross fell from third to eighth in the standings, but it advanced to the Atlantic Hockey quarterfinals by beating Rochester Institute of Technology in three games, the last of which was in overtime.
After Mercyhurst eliminated the Crusaders a week later, Kaplan had no way of knowing he had played in his final collegiate hockey game.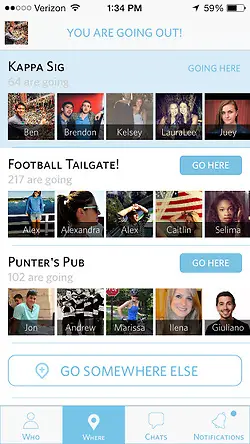 In April, Kaplan met with Paul English, the founder and former CEO of travel website Kayak.com. Having sold Kayak, Kaplan and his business partners founded Blade.net, a company that serves as a co-founding firm for software and technology startups.
Armed with Blade's backing, WiGo launched full time this fall with the intention of spreading through all colleges across the United States.
With all of this coming down the lane, Kaplan made the tough decision to abandon his academics and athletics in favor of his new role as young entrepreneur.
"It was definitely a tough decision," said Kaplan. "I'd been a hockey player my whole life, and I was committed to being at Holy Cross. But my teammates were extremely supportive of my decision."
Despite no longer being on the Holy Cross roster, Kaplan maintains hockey connections through his business. The initial growth in beta testing on the Worcester, Mass., campus started with the hockey team, and it grew from there.
"Hockey is a tight-knit community," Kaplan said. "A lot of guys at different schools played together or against each other at different levels. So when [WiGo] launched, it was great to see the hockey community really get out and support it. My teammates were very supportive of my decision."
Beyond the college hockey realm, Kaplan drew support from some of the game's on- and off-ice icons. Former New Hampshire player James van Riemsdyk, currently with the Toronto Maple Leafs, tweeted about WiGo. ESPN media personality and noted college hockey supporter John Buccigross made mention.
"It brought some great publicity," he said. "All of a sudden we had students from places like Arcadia University in Nova Scotia asking about it, but it's only something that was available in the United States."
That smaller approach to growth is something that allows it to be woven into college social fabric. WiGo requires an on-campus email address (a ".edu" address, as Kaplan puts it) to sign up, and the app unlocks only when 100 people sign up for it from a given school.
"We wanted to avoid it being a thing that only three or four people use," he said, "and we really want it to be robust enough for the demand to grow. College social life is one of those things where if somebody uses it, it becomes a go-to thing. As more people get involved, the app itself becomes more useful to everyone."
Kaplan has four full-time employees along with the Blade staff at his disposal. And while he's raised money with the project, he wants it to stay free and ad-free despite potential partnerships in the marketplace.
"We are 100 percent focused on making this sticky. We want people to just check in and talk to one another, to see what's going on," Kaplan said. "We are totally focused on keeping it free without any pop-up ads. But at the same time, if there's a group of friends going out to a particular place, there's opportunity for partnerships with things like Uber. But right now we're more focused on growing the app, raising awareness, and we're not focused on [selling ads]."
The road isn't anywhere near completion, but the project is miles away from where it started.
It's also a road paved with ice from the support of the entire hockey community.
"Social media's been great to us [so far]," said Kaplan. "It's always big when someone like [van Riemsdyk] or Buccigross tweets it out. It's so great that the hockey community has been so supportive, and we love that we can use those connections to get out into the world."