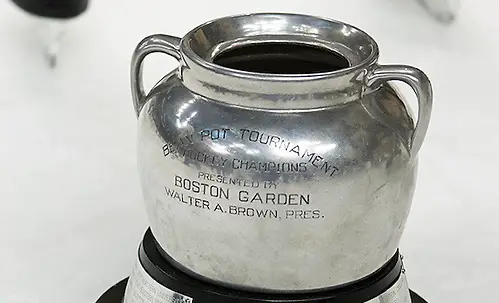 UPDATE, 3:56 p.m. EDT: It seems the Beanpot is safe in Boston.
After criticism abounded Friday morning over talk of playing the Beanpot tournament in Belfast based on stories from Northern Ireland that said Boston Mayor Marty Walsh was supportive of an effort to "bring the NCAA Beanpot tournament to the city," Kate Norton, Walsh's press secretary, issued the following statement:
Today Mayor Walsh expressed his support for a "Belfast Beanpot" — an initiative proposed by the Odyssey Trust, to host 4-6 college hockey teams from the Boston area to play a tournament in Northern Ireland. The tournament would not replace the Beanpot. This would not be an effort to "move" the Beanpot out of Boston.

I spoke with the Mayor following the impressive press and social media firestorm that followed his interview earlier today. He conveyed to me, in no uncertain terms, that — particularly as a Boston College grad and a hockey fan — he would never move a classic Boston event like the Beanpot out of our City.
Our original story is below.
---
The Beanpot in Belfast? The idea apparently has the backing of Boston's mayor.
Mayor Marty Walsh said he endorses the idea of playing the 2016 event in the Northern Ireland capital.
"In light of the recent Sister City twinning between Belfast and Boston, which is underpinned by a longstanding connection between the two cities through ice hockey, I think it would be wonderful to bring the Beanpot to Belfast and am lending my support to the campaign," Walsh said Friday during a visit to Belfast.
The tournament has been played since the 1952-53 season in Boston between Boston College, Boston University, Harvard and Northeastern, but recent college football games in Dublin may have laid the groundwork for a Beanpot special event across the pond.
Notre Dame beat Navy in front of 48,820 fans in 2012, and Penn State beat Central Florida earlier this season in front of a crowd of 53,304.
"Bringing this tournament to the Odyssey Arena is ice hockey's answer to bringing Notre Dame to Croke Park — the impact would be massive and would bring a major economic boost not only to local sport, but to hospitality, tourism and culture in Northern Ireland," Odyssey Trust chief executive Robert Fitzpatrick told BBC Sport.
"Ice hockey has played an important role in fostering strong relationships between Belfast and Boston, and bringing this high-profile tournament to Northern Ireland would further cement that relationship and celebrate the links between the two cities."
Walsh is scheduled to host a delegation from the Odyssey Trust, which owns the 7,100-seat Odyssey Arena, and the Belfast Giants hockey team in October.
Great to welcome @marty_walsh today-backing our bid to bring 2016 @NCAA Boston Beanpot hockey tournament to Belfast! pic.twitter.com/ok4zQUuTcI

— Belfast Giants (@BelfastGiants) September 26, 2014