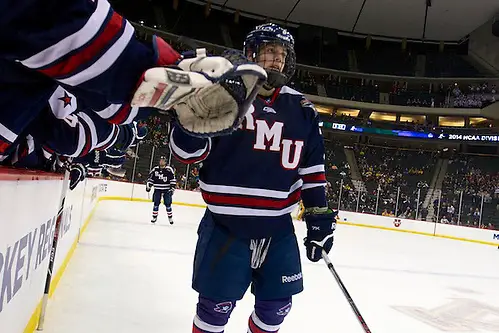 Happy hockey new year! Maybe happier for some than others.
If your team cruised to victory in an exhibition game over the weekend, congratulations. The NCAA went 27-5-3 against Canadian Interuniversity Sport teams between Friday and Sunday. (Don't worry, we didn't overlook the U.S. Under-18 team's win over Miami.)
The five losing teams were heavy hitters, to be sure: Notre Dame, Northeastern, New Hampshire, Robert Morris and Quinnipiac. But if your team is among this group, fear not.
Last year, four teams lost their opening weekend exhibition games (the NCAA went 36-4-3 against the CIS last October and 29-6-5 in 2012). Three out of those four went on to have winning records at the end of the season:
• Michigan lost to Waterloo (the same CIS squad that upended Notre Dame on Sunday) and went on to finish 18-13-4 but crucially missed the NCAA tournament.
• Mercyhurst lost to Guelph but went on to its fourth 20-win season in the last decade, finishing 21-13-7.
• Denver lost to New Brunswick but like clockwork returned to the NCAA tournament at season's end, ending the year with a 20-16-6 record under first-year coach Jim Montgomery.
• The only team to have a losing season was Rochester Institute of Technology, which began the year with a loss to Queens. The Tigers wound up 12-20-5.
Two other teams tied McGill: Merrimack and Massachusetts-Lowell. The River Hawks, of course, blazed through Hockey East, winning the regular season title and conference tournament with a 26-11-4 final record. Merrimack was the polar opposite, struggling to an 8-22-3 record.
The moral of the story? Don't read too much into the preseason. It's the preseason for a reason.