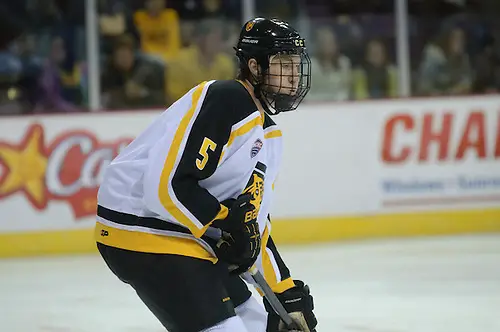 For the second consecutive season, a longtime coach in Colorado hockey was out last spring. Scott Owens, a Colorado College alumnus, resigned after 15 seasons behind the Tigers bench as the all-time winningest coach in Tigers history, compiling a 324-228-54 record that included a Frozen Four berth (2005), seven NCAA tournament berths and three WCHA regular-season crowns while coaching two Hobey Baker Award winners.
Mike Haviland, who most recently served as coach of the AHL's Hershey Bears, replaced Owens. Haviland spent four years as an assistant coach with the Chicago Blackhawks, winning a Stanley Cup with them in 2010. Haviland also has previous college hockey coaching experience as an assistant coach for Division III Elmira, his alma mater.
"He left us in pretty good hands here," Haviland said of Owens. "I go back to my pro days, and a guy gets traded and sometimes he gets a new lease on life. It's a whole new philosophy, a whole new way of thinking, and guys get rejuvenated. I think that's what you see with a new coach, some different ideas, some different approaches to things maybe."
Haviland faces two immediate challenges: He takes over a club that finished 56th in team offense out of 59 teams while winning only seven games and finishing seventh in the NCHC.
Additionally, starting goaltender Josh Thorimbert, who played most of the games in net for the Tigers over the last few seasons and often kept them in games while their moribund offense struggled, has graduated.
"Certainly, it's a situation where as a staff you are concerned about it," Haviland said of the goaltending. "You have guys that haven't played a college hockey game. Tyler Marble is obviously a little bit older than Chase Perry, so hopefully he's going to take the puck and run with it a little bit early on, but Chase comes highly touted out of juniors and has had a couple good weeks on the ice. We are going to evaluate each and every day and see who's ready to play."
Regarding the offense, Haviland is stressing getting to the net.
"Watching the games last year, I don't think we went to the net enough and stayed around the net enough," he said. "I thought we played on the perimeter way too much for me and our staff. We're going to implement a lot of things of driving to the net and staying at the net. You know, 10 feet outside that net is where I think 90 percent of the goals are scored. You have to be willing to go to those areas."
One upside for the Tigers is the blue line, which is anchored by sophomore Jaccob Slavin, who had a fine rookie season, leading the team in scoring with 25 points.
"He's a leader and a mature young man for a sophomore in college," Haviland said. "His play, you can tell he's someone special to have, and that's a good feeling to have as a program."
Another area where Haviland is keen to improve is special teams, as the Tigers finished 57th in power-play efficiency and 49th in penalty killing.
"I'm a big believer in special teams," said Haviland. "I think you have to practice them an awful lot during the week and make sure guys understand what you are looking for. I have four or five things that I will demand that I think you have to have for your power play to be successful. You may only get two a game, and if you can win the special teams, you'll win hockey games. It was a major concern; we addressed it in May, and we addressed it in September when we got back to school, that we will be better on special teams."
About the Tigers
2013-14 overall record: 7-24-6
2013-14 NCHC record: 6-13-5 (seventh)
2014-15 predicted finish: Eighth in media poll
Key losses: Coach Scott Owens, G Josh Thorimbert, F Alexander Krushelnyski, F Archie Skalbeck, F Jeff Collett, D Eamonn McDermott
Players to watch: D Jaccob Slavin, F Sam Rothstein, F Alex Roos, F Cody Bradley, D Peter Stoykewych
Impact rookies: D Garrett Cecere, D Teemu Kivhalme, D Duggie Lagrone, G Chase Perry
Why the Tigers will finish higher than predicted: A new coach in Mike Haviland could perhaps give some players who were overlooked a new lease, and also jump start an offense that was close to last among all Division I teams last season.
Why the Tigers will finish lower than predicted: Much like its neighbor to the north, CC has an unproven goaltending situation with the graduation of Josh Thorimbert, who played the lion's share of minutes for the Tigers last year and often kept the team in games. None of CC's current goalies has played a single collegiate game.