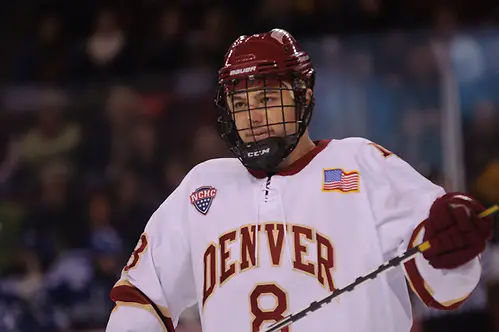 By most measures, the Denver Pioneers had a successful season last year under first-year coach Jim Montgomery. The Pioneers of 2013-14 had only two seniors and a lot of question marks.
Yet after a late-season lull, they rallied, winning the inaugural NCHC tournament and qualifying for the NCAA tournament, where they were defeated by Boston College.
Montgomery sees consistency as a big key for his team heading into this season.
"[I was] frustrated with our lack of consistency throughout the year, our inability to play what I call Pioneer hockey, play it every night," said Montgomery. "I think if you play the right way every night, you will give yourself a better opportunity to have success. You know your team identity is there every night, and we got that come playoff time, and that showed in our results on the ice."
While Denver has a big returning senior class with eight players, it has a huge hole to fill in the departure of Sam Brittain, one of the nation's top netminders.
Brittain finished tied for sixth nationally in shutouts, tied for sixth in save percentage, and was third in minutes played while winning NCHC goaltender of the week honors six times.
Backup goalie Evan Cowley played in only five games, logging just over 200 minutes while putting up respectable numbers.
"We haven't been on the ice enough to know if there is someone separating themselves from somebody else, but that being said, we feel we have a lot of talent in goal, and obviously they have to go out and gain the confidence at this level," said Montgomery. "My plan right now, and I've told them this, is to alternate them on Friday and Saturday nights, because I don't like to just hand somebody something. They have to earn it and prove their consistency in practices and games to earn that right to play like we played Sam."
Another area of concern for the Pioneers is offense, as the team struggled to score goals at times last season. Many of their goals were scored by a talented blue line corps, including returning senior Joey LaLeggia, who finished second on the team in scoring behind freshman Trevor Moore, who notched 32 points.
"In the playoffs when we won, we were giving up three goals against Western [Michigan] and Miami and we still won those games," said Montgomery. "We found a way to start being more productive. I think more players got comfortable with whether they were in an offensive role or a defensive role, and I expect that to continue because we have a large number of forwards returning, except for two freshmen."
LaLeggia leads the blue line corps, which includes classmate Josiah Didier, junior Nolan Zajac and sophomore Will Butcher. The defense again will be counted upon to get into the offensive play.
"I think one of our goals coming into this year is to produce more offense, not just from our back end but from our forwards," LaLeggia said. "But us on D, that is one of our strong points, producing offense. We hope we can carry our success from last year into this season."
Added Montgomery, "It's a strength of our team and we hope that with the talent we have back there, we can shut down plays early and it will lead to easy transitions with their ability."
Denver also has a few strong rookies coming in. Boston Bruins draft choice Danton Heinen has impressed the staff early, while Tariq Hammond and Adam Plant will be expected to help out on the blue line.
"I'm just hoping that they will add depth at scoring," Montgomery said. "We really expect that out of Danton Heinen, the fourth-round pick of the Boston Bruins. He's showed that in practice already, the ability to make plays and score goals."
About the Pioneers
2013-14 overall record: 20-16-6
2013-14 NCHC record: 10-11-3 (sixth)
2014-15 predicted finish: Fourth in media poll
Key losses: G Sam Brittain, D David Makowski
Players to watch: F Trevor Moore, F Ty Loney, D Joey LaLeggia, F Quentin Shore
Impact rookies: D Tariq Hammond, F Danton Heinen, G Tanner Jaillet
Why the Pioneers will finish higher than predicted: Trevor Moore led the team in scoring as a freshman and should be stronger as a sophomore, and Joey LaLeggia is back as a senior to lead a strong defensive corps. With eight returning seniors, and potential impact rookies in Danton Heinen and Rudy Junda, the Pioneers could be stronger offensively this year.
Why the Pioneers will finish lower than predicted: There's no denying that goaltender Sam Brittain kept Denver in a lot of games last season. Denver's goaltending is a huge unknown heading into the season, and strong net play is often what separates the haves from the have-nots in such a competitive league.