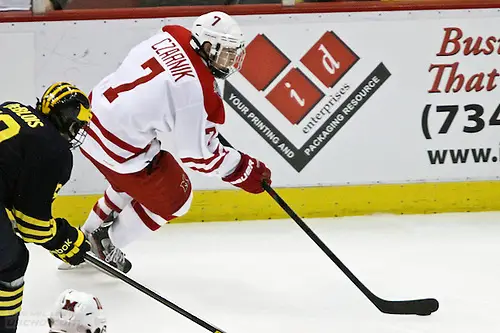 A year ago, the Miami RedHawks were the darlings of the media covering the newly formed NCHC. Not one puck had been swatted in anger yet, and the new league's easternmost team was already being fancied to win the NCHC's first regular season.
The RedHawks didn't live up to the hype built around them, but they're now getting a second chance.
Miami is many prognosticators' pick to win the Penrose Cup this season, and it's easy to see why. Nearly everyone from the 2013-14 incarnation of the RedHawks team is back, and coach Enrico Blasi has as many weapons at his disposal in Oxford, Ohio, as he ever has.
On paper, it seems the only thing that can derail his team is a collapse like it had last season.
Miami started brightly, jumping out to a 6-2-1 record after nine games. Things fell apart for the RedHawks for a while after that, however, as they picked up only six wins between Nov. 30 and March 7.
"The start of the season wasn't a problem," Blasi said, "But when we got to around Thanksgiving and Christmas, we got into a tough spell in between those two and just never really recovered until the end.
"I think there's a lot of reasons, but I'm not going to go through them and make excuses. We just threw some opportunities out the window and didn't play well enough, and we lost 12 one-goal games, and that's unacceptable and we've got to remedy that."
Come playoff time, Miami's quality finally began to tell. Although the RedHawks finished last in the NCHC in the regular season, they upset St. Cloud State on the road in the first round of the league playoffs and made a run to the league playoff final against Denver.
This year's Miami team will be determined to finish higher in the regular season, and there's no doubting that the talent is there to make that happen.
It starts up front, and senior forward Austin Czarnik and junior forward Riley Barber both finished north of 40 points last season on an underperforming team. Junior Sean Kuraly was one point shy of the 30-point plateau, and senior forward Blake Coleman posted 28 points last season despite missing a large chunk of it due to injury.
Miami's defense, however, is a question mark. The RedHawks' blueliners can move the puck, but there isn't a lot of size there — all but three are an even 6 feet tall or shorter. And their defensive woes last season didn't help sophomore goaltenders Ryan McKay's and Jay Williams' numbers after an excellent freshman campaign for both of them.
That being said, the issues the RedHawks experienced last season ought to provide more than enough motivation to turn things around this season. It appears that Blasi believes that looking forward while remembering what happened last season should keep history from repeating itself.
"Obviously, we need to improve on what we did a year ago, and that's our focus," Blasi said. "It can't get any worse in our league than what we did last year, so it's been a tough summer and we've had to work hard, but hopefully we've put ourselves in a position where we can improve on that."
About the RedHawks
2013-14 record: 15-20-3
2013-14 NCHC record: 6-17-1-1 (eighth)
2014-15 predicted finish: Second in media poll
Key losses: F Max Cook, F Bryon Paulazzo
Players to watch: F Riley Barber, D Matthew Caito, F Blake Coleman, F Austin Czarnik, D Matt Joyaux, F Sean Kuraly, G Ryan McKay, G Jay Williams
Impact rookie: D Louie Belpedio
Why the RedHawks will finish higher than predicted: If Barber and Czarnik continue to lead the way offensively and Miami can get better goaltending than it had a year ago, the RedHawks should be able to justify their role as one of the favorites to win the Penrose Cup this season.
Why the RedHawks will finish lower than predicted: It's too early to predict whether a collapse like Miami experienced last season up until the league playoffs will happen again. If it does, however, the RedHawks could find themselves in bother.