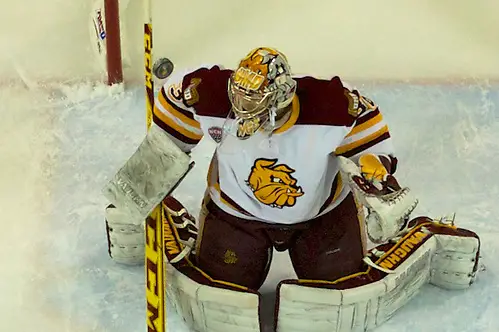 Minnesota-Duluth was a young team last season, and its results were about what you might expect. The Bulldogs finished at .500 both in conference and overall while finishing fourth in the NCHC.
Home ice didn't matter much — the Bulldogs were swept in the first round of the NCHC tournament by Western Michigan.
The Bulldogs had only four seniors last year, but one of their graduation departures was starting goaltender Aaron Crandall, who played 31 games. Additionally, junior Caleb Herbert, who led the team in scoring, opted not to return for his senior season.
"There were a lot of young teams last year in college hockey, but I think our guys got some good experience," said Bulldogs coach Scott Sandelin. "I think obviously the hot topic around our team was goaltending. I thought [Crandall] had a pretty good year, but I think that's something we need to solidify."
Sandelin will look to two sophomores, Matt McNeely and Alex Fons, and incoming freshman Kasimir Kaskisuo, to compete for the top spot. McNeely played in nine games last season, while Fons played in only one.
"Matt is our most experienced guy, but he had some inconsistencies last year," said Sandelin. "That's a position that I think we all know if you have an experienced guy coming back like Zane McIntyre at North Dakota or Adam Wilcox at Minnesota, it gives you an advantage. There will be a battle there, no question, and I haven't really made any decisions yet."
The Bulldogs have a lot of upside with their young forwards, including sophomores Kyle Osterberg and Alex Iafallo, who had solid rookie seasons. Additionally, senior Justin Crandall will look to improve on his most productive offensive year, and junior Tony Cameranesi hopes to rebound from a disappointing sophomore campaign.
"Obviously, Kyle had a pretty good year offensively, and we expect those guys to build off those years," Sandelin said. "And we certainly hope Justin Crandall can build off his 14 goals, too, but we're going to be more by committee, I think."
The blue line will be anchored by junior Andy Welinski, who had a solid sophomore year in scoring 19 points, tops among Bulldogs defenders. Adding to an experienced defensive corps will be sophomore Willie Raskob, junior Willie Corrin, senior Derik Johnson and sophomore Carson Soucy.
"Obviously, Andy played Ryan Suter minutes for us, so we asked a lot out of him, and Carson Soucy stepped in to being his partner and did a real good job," said Sandelin. "Willie [Raskob], as you mentioned. Those two guys as true freshmen got their feet wet and I thought did an outstanding job for us during the year. I think our group is a little bit older, maybe a little more experienced, but we are certainly going to still look to our older guys to play big-minute roles."
One area of concern for Sandelin is the power play, which converted at only 15.76 percent last season, good for 43rd nationally. The penalty kill also struggled, clicking at 81.7 percent.
"That's probably the first time in seven or eight years we finished under 20 percent, and we never even got to that," said Sandelin. "It's something we will work at, and hopefully as the year goes on it hopefully gets a better start and is more consistent. We'd go through streaks, but it always seemed like when we needed that goal, we couldn't get it.
"The other area that I think hurt us, we took too many dumb penalties, whether it was on the power play, whether it was in the offensive zone, whether it was untimely stuff. It can kind of kill some of that momentum. That's an area where I want our team to play a lot more disciplined."
About the Bulldogs
2013-14 overall record: 16-16-4
2013-14 NCHC record: 11-11-2 (tie, fourth)
2014-15 predicted finish: Fifth in media poll
Key losses: G Aaron Crandall, F Caleb Herbert, F Joe Basaraba
Players to watch: F Tony Cameranesi, F Justin Crandall, F Alex Iafallo, F Kyle Osterberg, D Andy Welinski
Impact rookies: F Brett Boehm, G Kasimir Kaskisuo, F Karson Kuhlman, F Jared Thomas
Why the Bulldogs will finish higher than predicted: Many of the team's top scorers are back, including sophomores Osterberg and Iafallo. While the team approach to scoring last year limited the Bulldogs at times, they have players who might improve significantly on offense.
Why the Bulldogs will finish lower than predicted: The departure of a team's starting goaltender and top scorer is bound to have an impact, and while the Bulldogs were young last year and have many returning players, the loss of Crandall and Herbert may be too much.