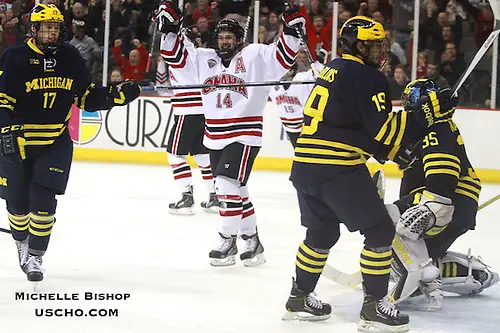 For all the challenges Dean Blais has encountered in his first three seasons behind the Omaha bench, his fourth presents a new issue to be dealt with.
Namely, youth and a ton of it.
Eleven freshmen will be looking to make their debuts for the Mavericks this season. Blais has never had a bigger recruiting class in his time in Omaha, but a group of newcomers so numerous is required following the departures of many formerly key pieces.
What's coming in fresh and what returns from last season has a lot to live up to. All-American forward Josh Archibald left a year early to sign with the Pittsburgh Penguins, and former UNO forwards Ryan Walters, Johnnie Searfoss, Zahn Raubenheimer and Brock Montpetit all exhausted their eligibility in March.
Between the five of them, they scored 51 percent of UNO's goals (60 of 117) last season.
Defensemen Jaycob Megna and Nick Seeler, who has since transferred to Minnesota, both left Omaha over the offseason. Brian Cooper and Ian Brady are both reliable veterans on the blue line, but after that, UNO may find itself dressing four freshman defensemen on a regular basis.
The starting goaltending job is senior Ryan Massa's to lose. However, sophomore Kirk Thompson — who played in 15 games last season – and freshman Brock Crossthwaite will have their chances to enter the fray.
The best news for UNO is that plenty of firepower returns and UNO again shouldn't have much trouble finding the back of the net. Senior forward Dominic Zombo and sophomore Jake Guentzel finished in a tie for second on the team in scoring last season with 34 points each, and Austin Ortega is coming off a promising 19-point freshman campaign.
Several incoming freshman forwards know well where the net is, too. Avery Peterson, David Pope and Tyler Vesel are all NHL draft picks, and Jake Randolph and Jake Montgomery are already being seen as potential free agent targets.
Blais expects each of them to make solid contributions in their first season in Omaha. In fact, it may get to the point where they could outshine their more seasoned compatriots if the veterans aren't pulling their weight.
"They're going to get plenty of ice time," Blais said of his returning forwards. "And with that goes chances and, if they don't put them in, the freshmen are going to start getting better and better and better and my top two lines might be all freshmen.
"If the older guys aren't getting it done, I'll play the freshmen who will. It's going to take some time for the freshmen to get up to speed, but we've got five dynamic forwards coming in who can really make things happen."
They may need to. Omaha had the NCHC's second-best scoring offense in the conference's inaugural season, but the Mavericks gave up 3.24 goals per game in 2013-14, good only for second to last in the league.
For UNO as much as any other team this season, the start of the campaign will be telling. If the veterans can't lead the Mavericks effectively, the team could be left with a mountain to climb while the promising youngsters get acclimated to the college game.
"Our older guys need to step up, and hopefully Ryan Massa's good in goal for us, and we're really going to need him to be good the first half of the year to hold us in there for some games," Blais said. "We've got a lot of youth and we're going to have four freshman defensemen playing regularly, so you know how that can be: They're already good in some areas but will get work in others, and it just takes time."
About the Mavericks
2013-14 record: 17-18-2
2013-14 NCHC record: 13-9-2-1 (third)
2014-15 predicted finish: Sixth in the media poll
Key losses: F Josh Archibald, D Jaycob Megna, F Brock Montpetit, F Zahn Raubenheimer, F Johnnie Searfoss, D Nick Seeler, F Ryan Walters, D Michael Young
Players to watch: D Ian Brady, D Brian Cooper, F Jake Guentzel, G Ryan Massa, F Austin Ortega, F Dominic Zombo
Impact rookies: F Jake Montgomery, F Avery Peterson, F David Pope, F Jake Randolph, D Luc Snuggerud, F Tyler Vesel
Why the Mavericks will finish higher than predicted: Omaha has one of the best freshman classes in the country this season, and if the rookies can quickly jell with the veterans and UNO can get good goaltending performances, the Mavericks have the potential to surprise some people.
Why the Mavericks will finish lower than predicted: UNO said goodbye this spring to arguably the best senior class in the Mavericks' history and also saw a few key pieces leave early. If the returning personnel and newcomers can't pick up where their elders left off, UNO might be in for a long season.