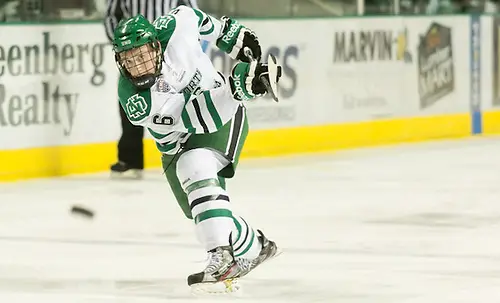 To North Dakota fans, their men's hockey team's end to the 2013-14 season had to seem like the worst fathomable nightmare come to life.
UND was arguably the better team in its national semifinal game against archrival Minnesota on April 10 in Philadelphia. It was a tight game, however, and as the final seconds of the third period counted down with the teams tied 1-1, overtime seemed inevitable.
Overtime never came.
A short-handed goal for Minnesota with six-tenths of a second left in regulation lifted the Golden Gophers to a 2-1 win. While their fans celebrated the unlikeliest of finishes, their counterparts in green and white were left devastated.
UND coach Dave Hakstol certainly hasn't forgotten about it. He and his team are using it as a piece of motivation, however, to finish the business UND couldn't close on last spring.
"I think there's a sour taste in everybody's mouth," Hakstol said. "But more importantly, we left a goal out there, and we left that on the table.
"That doesn't have a direct effect on today or on this season, but there is a residual effect, and what I've seen from this group is a real steady, focused group that has a goal in mind. But more importantly, they understand that they have to work every day to make steps toward that goal."
Gone from last year's team are leading scorer Rocco Grimaldi and a rock on the blue line in the form of Dillon Simpson. Nearly everyone else is back, however.
Senior forwards like Mark MacMillan, Michael Parks and Connor Gaarder and junior forward Drake Caggiula will be counted on to lead the lines up front. Where UND's biggest strengths lie, however, make their presence felt most in their own end of the ice.
UND returns a wealth of talent on the blue line, and Nick Mattson is the only senior among them. Junior Jordan Schmaltz and sophomores Paul LaDue and Troy Stecher look to be among the team's leading defensive lights this year. Highly touted freshman Tucker Poolman could quickly carve out a niche of his own within a talented corps.
In net, junior goaltender Zane McIntyre (nee Gothberg) is coming off of a sophomore season in which he posted an NCHC-best GAA and finished second in the league in save percentage. His form carried over into the postseason, with him being a big reason UND stole a Midwest Regional final win over Ferris State to move onto the Frozen Four.
In all, however, balance throughout the lineup will be a key to any success UND has this season.
"It's about making sure that everybody understands that they have a job and a role to play, and for us to be successful, we're going to need everybody doing their part," Hakstol said. "If you want to compare last season to this season and the finish of last year, there's a lot of similar personnel, and I think we're going to have to win games that have a fairly close margin to them.
"If we have to win 2-1, 3-2 or 5-4, I think we have the kind of team that can do that, but we're going to have to be very balanced offensively, we're going to have to have our defense chipping in an awful lot on the offensive side, and we're going to have to be a real good team without the puck in getting it back."
If all of those things come together for UND this season, a return trip to the Frozen Four could be in the offing.
About North Dakota
2013-14 record: 25-14-3
2013-14 NCHC record: 15-9-0-0 (second)
2014-15 predicted finish: First in the media poll
Key losses: F Rocco Grimaldi, D Dillon Simpson
Players to watch: F Drake Caggiula, F Luke Johnson, D Paul LaDue, F Mark MacMillan, D Nick Mattson, G Zane McIntyre, F Michael Parks, D Jordan Schmaltz
Impact rookies: F Nick Schmaltz, D Tucker Poolman
Why UND will finish as predicted: Nearly all of UND's key pieces from last season return, and UND will be hungry to finish higher in both the NCHC and the postseason than it did in the previous campaign.
Why UND will finish lower than predicted: UND has a reputation of starting seasons slowly, and that needs to be remedied. What's more, Grimaldi and Simpson are both difficult talents to replace, and if UND is unable to fill those shoes, the team could suffer for it.