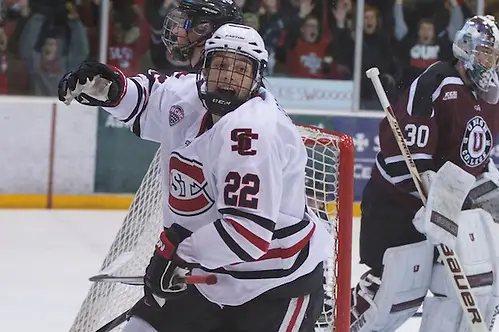 One year after making their first Frozen Four, the St. Cloud State Huskies had a solid season, winning the regular season NCHC crown and knocking off Notre Dame in the NCAA tournament before falling in the quarterfinals to Minnesota.
While the Huskies return most of the players who contributed to their success, they have a couple of big holes, as Hobey Baker Award finalist Nic Dowd graduated and starting goaltender Ryan Faragher left early.
"That's the biggest unknown for us: Who is going to replace the 1,000 minutes that Ryan Faragher played at a high level?" said Huskies coach Bob Motzko. "They are all returning goaltenders. Charlie Lindgren and Rasmus Reijola are probably going to get the first crack at it, and it's up to them. They were recruited in to do the job one day, and that day is now."
While Dowd and his 40 points are gone, the Huskies return a lot of key cogs from their fourth-ranked offense and third-ranked power play, including top scorer Jonny Brodzinski, Kalle Kossila and senior David Morley.
"We had a very small senior class last year, but boy, they played key roles for us," said Motzko. "We still think we're going to score a lot of goals. We like our power play, which comes back pretty much intact. We have some replacements on power play for the spot Nic Dowd played, but we have glaring holes at the center position, and new people have to fill those roles for us.
"That's the big question, the minutes replaced in goal and the minutes played at center, because we lost Nic Dowd and Cory Thorson, two senior kids that could play so well defensively."
Defensively, the Huskies will be led by senior Andrew Prochno and junior Ethan Prow. Motzko looks for big things from sophomores Niklas Nevalainen and Ben Storm. A couple of incoming freshmen, Nathan Widman and Mika Ilvonen, also could play important roles.
"We are really excited about our D corps," said Motzko. "We have a lot of guys returning, we have guys looking to take steps that they haven't been in, and we like our newcomers. We think we have eight guys competing for those six spots, and I have a feeling we will have to use all eight."
Motzko is also excited about some big, talented freshman forwards and the possibility of them contributing key minutes. Among them are Judd Peterson, a 6-footer who might compete for time at center, and a pair of 6-foot-1 wings, Patrick Russell and Blake Winiecki.
"We've been very excited about them, and they seem to be ahead of the curve right now," Motzko said. "They come in with a lot of junior experience, and they're also guys that have had a lot of success. It's been very encouraging. We anticipate all those guys being contributors in our lineup."
One area that the Huskies will look to improve is their penalty kill, which finished 52nd nationally last year, succeeding at only 76.9 percent. St. Cloud did help itself by being one of the least-penalized teams in the country, averaging only eight minutes per game.
"We don't take a lot of penalties, and in a short season, you have to look more at the goals-against than the percentage," said Motzko. "Once again, you lose Nic Dowd and Ryan Faragher, who were big parts of our penalty kill, and there are new people who have to step in. We've talked about it a great deal as a staff in the offseason. We want to really get after it and upgrade that area of our team."
About the Huskies
2013-14 overall record: 22-11-5
2013-14 NCHC record: 15-6-3 (first)
2014-15 predicted finish: Third in media poll
Key losses: F Nic Dowd, G Ryan Faragher, D Kevin Gravel, F Cory Thorson
Players to watch: F Jonny Brodzinski, F Kalle Kossila, F David Morley, D Andrew Prochno, D Niklas Nevalainen, G Charlie Lindgren
Impact rookies: D Mika Ilvonen, F Judd Peterson, F Patrick Russell, D Nathan Widman, F Blake Winiecki
Why the Huskies will finish higher than predicted: While the loss of Dowd to graduation and Faragher to early departure hurt, much of the Huskies' core lineup is back, including top scorer Jonny Brodzinski and last year's third-leading scorer, Kalle Kossila.
Why the Huskies will finish lower than predicted: Charlie Lindgren played only 10 games as a freshman, and while his numbers were respectable, he had only two wins while recording two losses and a tie. Lindgren will be depended upon early to get St. Cloud off to a strong start.