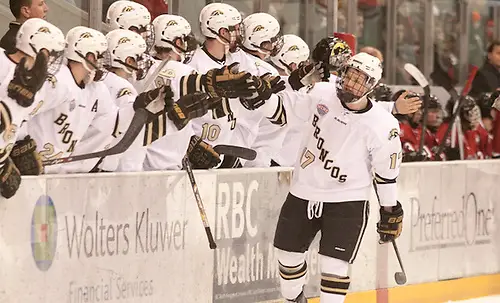 Western Michigan wasn't a fun team for opponents to play against last season, and if the Broncos have their way, they'll be just as tough an out this time around.
The Broncos will want to improve upon their fifth-place finish in the NCHC's inaugural season. Doing that, however, could prove difficult for a team that didn't score nearly often enough last season and has since lost two formerly key pieces up front.
Forwards Shane Berschbach and Chase Balisy, who posted 38 and 37 points last season, respectively, are both now in the Broncos' rear-view mirror. A healthy amount of offensive talent returns, though, and senior Justin Kovacs and juniors Colton Hargrove and Nolan LaPorte will be relied upon to help lead the lines up front.
Senior Will Kessel and junior Josh Pitt could prove themselves most vital, as the big centermen's strength will give defenders headaches as the pair maraud up the ice.
Coach Andy Murray's Broncos also could have a key newcomer among its attacking corps, as Edmonton Oilers draft pick Aidan Muir will be expected to contribute right away for an offense that mustered only 2.58 goals per game last season.
The departed and underrated Jordan Oesterle will be missed on the Broncos' blue line, but Western does return plenty of defensemen with plenty of size. Seven of the Broncos' nine defensemen for the new season are 6-foot-2 or taller, and with that will come a lot of physicality for opponents' attackers to try and deal with.
There's a solid amount of experience back there, too. Junior Kenney Morrison and sophomore Chris Dienes will lead a defensive corps that is likely to dress only one or perhaps two freshmen — most likely Scott Moldenhauer and/or Paul Stoykewych — per game.
The goaltending duties will be for senior netminder Frank Slubowski and junior Lukas Hafner to fight over. Slubowski was undoubtedly the Broncos' No. 1 goalie in his first two seasons in Kalamazoo, Mich., but he gave up three or more goals in eight of his final nine starts last season and saw Hafner cut into his playing time considerably.
Hafner appears to have the upper hand going into this season. He posted a 2.06 GAA and .925 save percentage last season, and those are the sorts of numbers that will keep any hockey team competitive.
About the Broncos
2013-14 record: 19-16-5
2013-14 NCHC record: 11-11-2-2 (fifth)
2014-15 predicted finish: Seventh in the media poll
Key losses: F Chase Balisy, F Shane Berschbach, D Dennis Brown, D Jordan Oesterle
Players to watch: D Chris Dienes, G Lukas Hafner, F Colton Hargrove, F Justin Kovacs, F Nolan LaPorte, D Kenny Morrison, F Josh Pitt, G Frank Slubowski, F Will Kessel
Impact rookies: D Scott Moldenhauer, F Aidan Muir
Why the Broncos will finish higher than predicted: Hafner or Slubowski or both should be able to post the sort of numbers they need to to keep Western in games, and a physically strong forward corps will give defenders a lot to handle.
Why the Broncos will finish lower than predicted: Western Michigan didn't score a ton of goals in 2013-14 and might not exactly score by the boatload this season, either. If the goals aren't going in at a high enough rate and the defense and goaltending falter, the Broncos could find themselves in the league's cellar.