It wasn't necessarily a championship performance, but defending national title-winner Union shook off the rust and jitters last weekend with 7-3 and 3-1 wins over American International and New Hampshire, respectively.
"I liked the fact that we could handle an emotional weekend and stay even-keeled," coach Rick Bennett said. "We had some ups and downs throughout the weekend, but … there were parts of our game that I really liked, and some stuff that looks negative is actually kind of positive."
The latter is a reference to Union's power play, which succeeded on only one of its eight opportunities.
"It was only 1-for-8, but there were times when — especially in the second night — it really generated a lot of momentum and kind of tired out the other team, I thought, as the game went on," Bennett said.
While there were flashes of nostalgic brilliance in Schenectady, N.Y., on Friday and Saturday — the Dutchmen buried the Yellow Jackets and Wildcats with packs of tightly bunched goals, just as they rolled last spring's opponents in similar fashion — it is clearly a different squad under Bennett's tutelage this fall.
"We'll have to do a lot more coaching," he said. "We have to have a lot more patience."
These simple words were as good as gold to Bennett, who thanked Colgate star and former Rensselaer coach Dan Fridgen for the advice.
"It's what we're trying to do. To say we have the most patient staff in the world would probably be a blatant lie," Bennett laughed, "but by the same token, that's why there's video, and that's why we practice."
The Dutchmen rolled the same lines both Friday and Saturday, but the coach stated that the lineup is by no means set.
One role that is unlikely to waver much is in net, as senior Colin Stevens picked up where he left off last April with 56 saves on 60 shots.
In picking apart similarities, continuities, differences and deficiencies between last April's Dutchmen and this October's, we exemplify an obvious desire on the part of fans, opponents and other observers to try to peg teams as being good at one thing, bad somewhere else … as playing this type or that type of hockey, as being somehow predictable or formulaic. Bennett wants nothing to do with such evaluations.
"The way we've always worked is, we're going to work from practice to practice, from game to game, and we'll let everyone else try to figure out what Union is," he said. "We've always been focused on ourselves, and we feel that there is plenty to work on. We'll just go about our business, and again, let other people try to figure out what type of team we are. I thought that happened a lot last year, and while everyone is trying to figure it out, we're just playing hockey.
"We have a lot of work ahead of us, I know that, but that's the fun part about coaching, and the fun part of the journey."
Knights lay siege in season-opening wins
Clarkson didn't win its first two games with cavalry charges. Rather, the Knights put up some monstrous walls and simply out-waited their foes.
Coach Casey Jones' Golden Knights are out to a 2-0 start for the second year in a row, and now seek Clarkson's first 3-0 start since 2006-07, which was also the year of their last NCAA tournament appearance. (Jonathan Quick and Massachusetts promptly smothered the Knights, but the point stands.)
Unlike that team, loaded with nine NHL draft picks like Shawn Weller, Nick Dodge, Steve Zalewski and Grant Clitsome, this year's Knights are more understated with four NHL prospects and barely a hint of hype.
"We've got a lot of room for growth, but I think we have a lot of players that will do the gritty things, and hopefully that will progress into a good offensive-zone game," Jones said of his defensive-minded team.
Clarkson surrendered just 34 shots last weekend in twin 3-1 road victories over Niagara and Rochester Institute of Technology, allowing career .919 save percentage goalie Steve Perry plenty of time and peace-of-mind. When called upon, Perry returned the favor.
"I think it's a little bit of both" strong defense and great goaltending, Jones said of the performances, "but I think that's what comes with goaltending. On Friday night, a great example is when we were doing a great job on a penalty kill. One of our kids committed, made a really nice block, but the [puck] went right off to the side, to a guy that was in perfect position for a one-timer. [Perry] was nice and calm and came across, in control, and made a nice save at a big time for us.
"That's the kind of calmness he offers us. Sometimes [as a coach] you go into a weekend thinking you'll get as many guys as you want into the games, but I thought he warranted coming back on Saturday, with the way he finished last year and the saves he made at key times on Friday night."
Jones noted before the season began that his team looked to be deep and strong defensively, and would have to be so in order to win early games. So far, so good up at Fort Potsdam.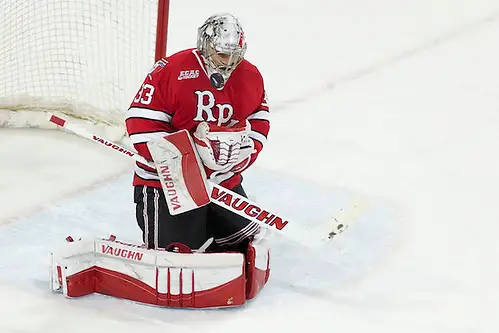 Raiders, Engineers impress early
Colgate had a pretty good season last year, finishing second in the league. It's off to an even better start this year.
The Raiders fulfilled the second year of their home-and-home contract with St. Cloud State, and whereas last year the 'Gate dropped both of their home games to the Huskies, this year's squad split a pair in the Land of 10,000 Lakes in a pair of 3-1 games.
St. Cloud State is no pushover, having advanced to the West Regional final last spring and being picked to finish third in the NCHC by the league media.
In the Ice Breaker Tournament in South Bend, Ind., Rensselaer deflated host Notre Dame with a 3-2 win in Friday's opener, secured on the back of junior Jason Kasdorf's 31 saves.
The netminder — playing his first game since a season-ending shoulder injury last fall — made 31 more saves in Sunday's 3-0 championship-game loss to No. 1 Minnesota.
Time will tell if RPI will muster the offense necessary to make a legitimate run at something special this season, but the evidence is already pretty strong that Kasdorf is ready to carry the load.