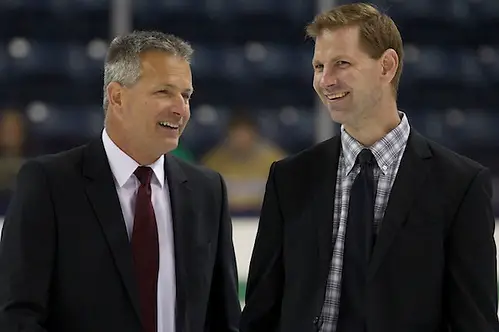 Begin, be bold, and venture to be wise. This quote, attributed to the Roman lyric poet Horace, is perfect for the start of any season, when everything — when every team — is nothing but potential.
And it's the wisdom that sometimes matters the most.
"We need work. We need work on the power play, on all our speciality teams." This is what coach Don Lucia saw after Minnesota became the first team to capture consecutive Ice Breaker Tournament titles last weekend in South Bend, Ind., downing Minnesota-Duluth 4-3 and Rensselaer 3-0.
Of course, every elite program has the luxury of nitpicking in ways that other programs may not, but Lucia saw his team take 11 penalties, and allow a power-play goal and a four-on-four goal to the Bulldogs. To their credit, the Golden Gophers also scored a power-play goal each night and Kyle Rau scored his second career short-handed goal against Duluth.
"I can't say that there's one thing that I liked," said Lucia — not by way of poo-pooing his team's performance, but meaning that there's no single aspect of his team's game that looked outstanding. "It just reinforced that when it's early in the season, you've got a lot of work to do. I thought at times we tried to do too much, played too individualistic, especially on Friday. We were better with that on Sunday.
"Last weekend, our best players were our best players. We've still got to figure out this year who should play with who. We'd like to keep our balance like we had last year with three even lines."
Sounding a little more enthusiastic about an opening weekend was the coach of the team at the opposite end of this year's coaches poll. Penn State tied and defeated visiting Connecticut in what was a weekend of firsts for the Nittany Lions, a team in its third year of Division I play and second of league affiliation.
"If our first weekend is any indication, we can see a lot of growth from where we were a year ago," said Guy Gadowsky. "I think the guys are real proud of it. They know how hard they worked last year and it's nice to see some results."
The Nittany Lions came from behind twice in their 2-2 Friday tie with the Huskies and exploded for five second-period goals in Saturday's 7-1 win. The first goal in the tie was scored on a penalty shot, the first successful penalty shot in PSU history and scored by junior Tommy Olczyk — who had the team's first unsuccessful penalty shot last season.
The seven goals against Connecticut marked a program single-game high, and the tie and win represent the best opening weekend in Penn State history. OK, it's a short history, but it's still something to note.
Gadowsky — without the luxury of decades of successful tradition and every single advantage such a thing can bring — understands that measuring progress for the Nittany Lions is a tricky thing. "We're still in our infancy," he said.
The Nittany Lions didn't win many games last season but came on in the second half of the campaign, recording their first Big Ten win against Michigan in early February and then defeating the Wolverines again 2-1 in their opening game of the Big Ten tournament.
That playoff win represented their first back-to-back recorded wins against Big Ten opponents; they beat Ohio State in their final game of the 2013-14 regular season.
Gadowsky said he thinks that last year's second half has carried over into this near year.
"Not riding the momentum," he said, "but riding the improvement. The guys worked so hard all season and you didn't really see the fruition of it. All through January and February, we were playing well and we were improving. The guys knew it, but the wins weren't coming."
Which is what made this nine-goal, tie-and-win opening weekend all the sweeter.
"The guys really worked hard and they grew a lot," said Gadowsky. "It shows."
Like Lucia, Gadowsky said he saw a lot that the Nittany Lions need to address.
"Initially, we took a major penalty [in the first period of the first game], and sometimes that alone can cost you a game and we have to learn from that, obviously," Gadowsky said. "But the first game was just the first game. Things were flying around. You know how that first game is all the time. You just have to get through it. Our goaltender kept us in there."
With less than a minute to go on Friday, sophomore David Goodwin scored the tying goal with Skoff pulled for an extra attacker.
"Any time you tie a game with your goalie pulled," said Gadowsky, "it's a good thing."
Saturday was a different story. "In today's game, you need some puck luck to score," said Gadowsky. "We got the bounces Saturday as well. I'm hoping that continues."
The Nittany Lions may still be babies in the greater college hockey scheme of things, but with a full season of league affiliation to their credit, they're no longer a completely unknown quantity.
Beyond shedding an aura of mystery, Gadowsky said he thinks that the Nittany Lions have earned a little respect, too. No one playing PSU will think the game an automatic three points.
"I think people did think that about Penn State early," said Gadowsky, "but we had stronger performances in the latter part of the season. I don't think they look at us that way now.
"But trust me when I tell you that when you play in the Big Ten conference, no game is easy. And no game is easy for us."
That the playing field may be slightly more level this season is something that Lucia noted.
"We saw that at the end of last year," said Lucia. "The league has very good goaltenders. That's why you saw a lot of low-scoring games."
And while the Nittany Lions may be a third-year team, Lucia pointed out that many Big Ten teams share some of Penn State's demographics. "How many of us have seniors any more?" he said.
"Ohio State is making improvement," Lucia said. "Wisconsin returns a Hobey Baker finalist. Everyone plays hard, and you get to play 10 nonconference games before league play begins in late November, which means that players are seasoned."
Three of the league's teams are considered to be legitimate top-10 material, the other three play hard — and all six advance to the playoff championship tournament. It's the start of a season in which anything can happen.
As for beginning with a tournament title, the second consecutive Ice Breaker Tournament title, "We'll take it and move on," Lucia said.
Wise words from the man whose team fell one game short of a 2014 national championship.
Wisconsin's road woes
The Badgers dropped their two games in Alaska at the Kendall Hockey Classic, losing 1-0 to Alaska and 4-2 to Alaska-Anchorage.
Wisconsin lost seven road games last season.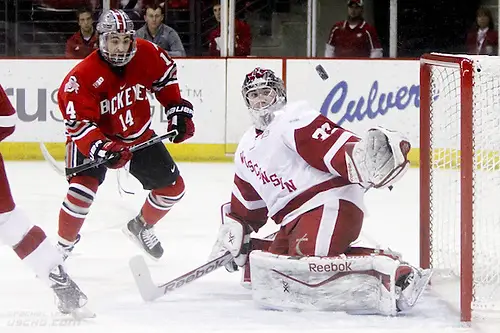 Buckeyes like overtime
Ohio State split a home series with Providence, winning 5-4 Friday and losing 2-1 Saturday, both in overtime.
Since the Buckeyes beat Michigan State in overtime in their first 2014 Big Ten tournament game and then lost to Wisconsin in the league's title game two days later, the Buckeyes have played an opponent to overtime in four of their last five contests.
Players of the week
Three different Big Ten teams are represented this week, and the recipients are no strangers to accolades.
First star — Minnesota sophomore forward Hudson Fasching: Fasching netted the game-winning goal and added an assist in Minnesota's 4-3 win over Minnesota-Duluth in the opening game of the Ice Breaker Tournament and added another goal in the Gophers' 3-0 title game win, a performance that saw him named the most valuable player in the tourney. Fasching had 14 goals and 16 assists in 2013-14, his freshman season, and this is his third career Big Ten weekly award.
Second star — Ohio State senior forward Tanner Fritz: Fritz had two goals and two assists, all in Ohio State's Friday 5-4 overtime win against visiting Providence, including an assist on the game-winning goal. Fritz had eight goals and 24 assists in 32 games in his junior year last season. This is his second career Big Ten weekly award.
Third star — Penn State junior goaltender Matthew Skoff: Skoff stopped 54 of 57 shots for a .947 save percentage in the Nittany Lions' two-game home series against Connecticut, a tie and a win. As a sophomore in 2013-14, Skoff played 23 games for Penn State with a .906 save percentage and 2.95 GAA. This is Skoff's second career Big Ten weekly award.
My ballot
For what it's worth. And remember that it's very early in the season.
1. Union
2. Minnesota
3. Boston College
4. Ferris State
5. Massachusetts-Lowell
6. Providence
7. Colgate
8. St. Cloud State
9. North Dakota
10. New Hampshire
11. Wisconsin
12. Notre Dame
13. Minnesota State
14. Quinnipiac
15. Ohio State
16. Northeastern
17. Michigan
18. Clarkson
19. Robert Morris
20. Cornell