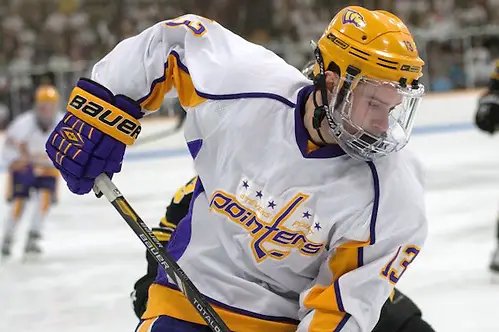 Wisconsin-River Falls coach Steve Freeman talked about how strong the WIAC really is from top to bottom.
He noted that a year ago his River Falls team won the regular-season title, but Wisconsin-Eau Claire and Wisconsin-Superior played for the conference title, with the Blugolds prevailing in the championship game.
Yet, it was Wisconsin-Stevens Point that ended up going to the NCAA tournament, skating all the way to the national title game, where it fell to St. Norbert.
With a new year on the horizon, Freeman doesn't expect much to change.
"This league is very balanced," Freeman said. "You have to play well every night, from the beginning until the end of each game. It's tough to get two points in this league. I expect it to be just as tough this year."
Eau Claire coach Matt Loen echoed those thoughts.
"Every team is good, and you always have to be at your best to win," Loen said. "Nothing is going to come easy, but we're excited about getting started."
Stevens Point will come in with the biggest target after finishing as the national runner-up for the third time in program history. A total of 22 letterwinners are back, with WIAC Player of the Year Garrett Ladd leading the way. Ladd finished fourth in the country in points (42).
Eau Claire, which won the national title two years ago, could very well contend for the title again this year. The Blugolds, who punched in 93 goals a year ago, will be one of the best offensively again this year. They are led by Joe Krause, who led the team in goals with 12.
Loen said his team felt slighted by not getting into the NCAA tournament and is using that as added motivation.
"We are going into the year with a chip on our shoulder," Loen said. "We thought we should have gotten into the tournament, and the guys coming back are using that as motivation."
River Falls have four of their top five scorers back, including Blake Huppert, who came through with 21 points last season. Christian George led the team in assists with 14. The Falcons have finished no lower than third in the WIAC standings in the last five years and should be in good shape to win another title as they play five of their final eight regular season games at home.
"We are optimistic," Freeman said. "We feel like we have added a lot of speed and skill, and that is the identity we want as a team. We want to be a fast and skilled team. We can't wait to start playing games."
It might take time for Superior to find its identity as it lost more than 60 percent of its scoring. Eric Shand will led the way after tallying 14 points last year. Coach Dan Stabuer enters the year on the cusp of school history, needing only nine wins to get to 249 and become the program's winningest coach.
Stout will be young with six freshmen and 14 sophomores. The Blue Devils also lost three of their top five scorers. The good thing for Stout is that it will play 10 of its last 12 at home, which will give it an opportunity to close the year on a high note.
"Every game is going to be extremely competitive," Freeman said. "We are expecting intense battles all year in the conference, and hopefully, we will have a chance to win it again."
Wisconsin-Eau Claire
Nickname: Blugolds
2013-14 Record: 19-8-1 overall, 6-5-1 WIAC
2013-14 Postseason: Won the WIAC tournament with a 3-0 win over Superior
Head Coach: Matt Loen (103-80-13, 8th season)
Key Returning Players: Joe Krause (12-9–21); Ross Andersen (10-9–19); Jack Callahan (5-14–19); G Tyler Green (2.25 GAA, .927 save percentage); Jay Deo (0.71 GAA, .972 save percentage)
Key Departures: D David Donnellan (9-10–19); F Jon Waggoner (10-8–18); F Daniel Olszewski (5-12–17)
Thoughts: Eau Claire is one of the best teams in the country, and while it fell short of a trip to the NCAA tournament, don't expect the Blugolds to be anything less than a contender this season. The Blugolds scored 93 goals last season, and the top goal scorer, Joe Krause is back to lead the offense. Andersen is also a legit scoring threat and was tied for second in points. Both Krause and Andersen are very good at getting others involved as well and if they play up to their potential, Eau Claire is poised for success on the offensive end of the ice. The Blugolds also appear to be in good shape defensively with goalies Jay Deo and Tyler Green both back. Green played in 19 games while recording five shutouts. Deo saw action in 10 games and also came through with five shutouts. Eau Claire is bringing in a cast of talented newcomers as well, with NAHL experience, including Jake Davidson from Kenai River. He played in the league's top prospects game last season.
Wisconsin-River Falls
Nickname: Falcons
2013-14 Record: 15-9-3 overall, 8-4 WIAC
2013-14 Postseason: Lost in two games in WIAC tournament semifinal series to Superior
Head Coach: Steve Freeman (320-165-40, 19th season)
Key Returning Players: F Blake Huppert (9-12–21); F Christian George (6-14–20); F Ryan Doner (7-12–19); F Mitch Kotney (10-6–16); G Tanner Milliron (2.16 GAA, .921 save percentage)
Key Departures: G Scott Lewan (2.33 GAA, .920 save percentage); D Jeff Burke (3-9–12); D Jon Schreiner (3-6–9); F Alex Hagaman (8-8–16); F Willie Hess (11-8–19)
Thoughts: River Falls won its 17th WIAC championship in program history last year, the most of any team in the league, and expectations will be high again for a program that has had just two losing seasons in the last 22 years. Several key players are back, including Blake Huppert, who scored nine goals last season. Christian George, Ryan Doner and Mitch Kotney will also be counted on to pave the way for an offense that scored 77 goals last year. River Falls should also be set in goal with Tanner Milliron back. He gained valuable experience a year ago despite playing in only nine games, finishing with 232 saves. If he handles the role as starter well and the offense clicks as expected, the Falcons despite losing several of its top scorers from last season, will be in the mix for a league title again.
Wisconsin-Stevens Point
Nickname: Pointers
2013-14 Record: 22-6-2 overall, 7-4-1 WIAC
2013-14 Postseason: Lost in three games to Eau Claire in semifinals of WIAC tournament but played in the national title game, falling 3-1 to St. Norbert.
Head Coach: Chris Brooks (51-27-2, 4th season)
Key Returning Players: F Garrett Ladd (20-22–42); D Kyle Brodie (8-18–26); G Brandon Jaeger (1.93 GAA, .926 save percentage)
Key Departures: F Kyle Heck (8-7–15); D Tyler Krueger (0-6–6); F Max Bobrow (3-6–9)
Thoughts: The Pointers were the national runner-up a year ago and are poised to make another run at the title this year. Stevens Point returns its top scoring threat in Garrett Ladd, who was the WIAC Player of the Year and finished tied for fourth in the nation in points. Kyle Brodie brings experience to the table as well after a season where he was the top defenseman in the league. Stevens Point's title hopes will also be strengthened by the return of goalie Brandon Jaeger, who recorded four shutouts and ranked 10th in the country in goals-against average. Jaeger is a three-time All-WIAC selection. Overall, the Pointers return their top nine scorers. Several newcomers could make an immediate impact as well, including Skyler Smutek and Cody Von Rueden. Smutek played at Connecticut last year, while Von Rueden played at Illinois a year ago. Their experience will benefit the Pointers in their quest to be a contender at the national level once again. One of the other key newcomers is goalie Max Milosek, a freshman who played for Port Huron of the NAHL last season. He will benefit greatly from being able to learn from one of the nation's best goalies in Jaeger.
Wisconsin-Stout
Nickname: Blue Devils
2013-14 Record: 8-18 overall, 4-8 WIAC
2013-14 Postseason: Lost 6-3 to Superior in opening round of WIAC tournament
Head Coach: Terry Watkins (215-51-28, 19th season)
Key Returning Players: D Jordan Tredinnick (8-8–16); D Danny Ray (4-9–13); F Jake Useldinger (1-6–7); D Pat Regan (0-1–1); F/D Carl Bombardier (0-0–0); G Chase Hollander (3.01 GAA, .913 save percentage)
Key Departures: F Kevin O'Donnell (12-13–25); F Zach Vierling (9-11–20); D Logan Maly (4-10–14)
Thoughts: The Blue Devils enter the season with a lot of uncertainty. Three of their top five scorers are gone and that means the pressure will be on for others to step up and fill those voids. Jordan Tredinnick and Danny Ray should be able to provide a spark offensively, but others will need to rise to the occasion for a team that scored only 67 goals a year ago. Stout does return goalie Chase Hollander, but he played in only five games. Hollander will need to become a netminder the Blue Devils can count on night in and night out if they are going to improve on last year's eight-win season. Stout only won three times in its first 10 games a season ago and could be in for another slow start as this team will likely need time to get things settled as the younger players gain experience.
Wisconsin-Superior
Nickname: Yellowjackets
2013-14 Record: 11-15-3 overall, 3-7-2 WIAC
2013-14 Postseason: Lost 3-0 to Eau Claire in WIAC championship game
Head Coach: Dan Stauber (240-115-54, 15th season)
Key Returning Players: F Cody Hotchkin (5-16–21); D Eric Shand (2-12–14); F Jordan Neduzak (7-5–12); F Jordan Shockley (3-3–6); F Tanner Dion (1-4–5); F Connor Faupel (3-1–4); D Matt Audette (0-3–3); D Owen Stauber (1-2–3); G Zach Thompson (.688 save percentage)
Key Departures: G Drew Strandberg (2.52 GAA, .911 save percentage); G Dayne Belfour (2.66 GAA, .909 save percentage); F Michael Ray (15-12–27); F Pat Dalbec (12-15–27); D Jeff Forsythe (4-10–14); D Derek Stauber (1-5–6); F Joey Massingham (3-5–8); F Brad Phenow (3-3–6); F Andy Singerhouse (2-3–5); F Marc Fortin (1-2–3)
Thoughts: Despite struggling in league play, the Yellowjackets made a heck of a run to the title game and hope to build on that momentum this season. It won't be easy with its top two scorers among the 15 players not returning this season. Cody Hotchkin will be counted on to help lead the offense after scoring five goals and dishing out 16 assists last season. Eric Shand, an all-league freshman last season, will also be looked upon to help fuel the offense. One of the biggest concerns will be in goal as Superior lost its top two goalies from last season. Zach Thompson saw limited time last year, playing in only two games. How quickly he develops as the starter will go a long way in determining Superior's success this season.