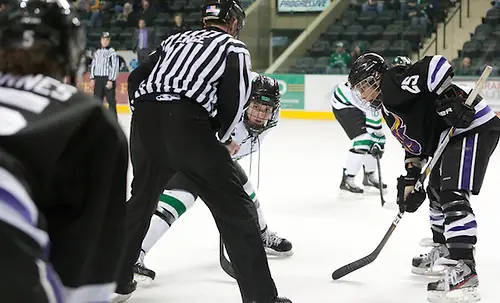 For the 2007-08 season, Brian Idalski took over a North Dakota program that had gone winless in the WCHA the previous year. Under Idalski, the team showed some improvement, finishing tied for fifth place in his second year, but its upward climb looked to be a slow one.
In the spring of 2009, Grand Forks natives Jocelyne and Monique Lamoureux announced their plan to transfer to their home university. After competing in the 2010 Olympics, they began playing for UND in 2010-11 as sophomores, and the team had its first 20-win season. The following year, Finnish Olympian Michelle Karvinen joined the cast, and the trio combined for 214 points and led North Dakota to its first NCAA tournament. The 2012-13 campaign produced a program-best 26 wins and a return to the NCAAs, but ended an eyelash shy of a first Frozen Four trip. Last season, Karvinen captained UND to another 20 wins as a senior.
Now Idalski is left with the task of reconstructing North Dakota in the wake of its three graduated Olympians.
"[Karvinen] is just such a dynamic player," Idalski said. "It's very interesting. She was really just coming into her own. I don't know if you replace a kid like that. Same thing with the Lamoureuxs. I don't think you replace kids like that. They're very few, and they're getting fewer and fewer every year, to be honest with you. That's a bit of a void; there's no doubt about that."
North Dakota lost another forward with Olympic experience when Susanna Tapani elected to remain in Finland after her freshman year.
Beyond the losses, the UND roster is unique in that only two of its 24 players are freshmen, and neither of those rookies has appeared in a game as yet. Might it have an advantage early in the year against opponents counting on newcomers still acclimating to the college game?
"I would have thought that we would, if we didn't change everything," Idalski said. "When you're doing and trying to execute things that are vastly different than what you did in the past, I still think you're falling back and there's a learning curve to that before you don't have to think about it."
Junior forward Becca Kohler is one player who has done less falling back in the early going.
"Being a two-time U-18 player, she's definitely skilled and somebody that was looked upon in the recruiting process to be an impact player for us," Idalski said.
It took Kohler a bit to get rolling in the college atmosphere. She had 12 points as a rookie and added another 16 points in year two. Meanwhile, Canadian U-18 teammate Meghan Dufault recorded 69 points through two years.
"I think for me coming in as a freshman, my role was a little different than [Dufault]," Kohler said. "I'm a bigger player, and I think we're different kind of players. I think she's really speedy, and for me it took a while to kind of adjust to college hockey and adapt to my role."
Most players find Division-I hockey to be more demanding physically than playing for their prep teams.
"In my last year of junior, I was really more offensive, so it was kind of a struggle coming here to college hockey and being up against stronger players," Kohler said. "I think now I'm more comfortable like I was back in junior and I'm learning to use my size again. I'm kind of figuring out that my size is a really big advantage."
While her six-foot frame gives her an edge, her age does not.
"I think what most people don't know is she's extremely young," Idalski said. "Most of our sophomores are older than she is. It's just taken her a bit to feel comfortable and being that kind of player and the consistency of showing up game in and game out and being a go-to kid. That's really her role and she's accepted it, and she's doing great."
Kohler charged out of the gate in October with four goals and six assists in her first five games, including a hat trick on opening night versus Rensselaer. The fast start is due at least in part to her preparation.
"This year coming in, I was more aware of what I was expected to do," she said. "So I worked really hard in the summer with my shooting and knowing how to be more offensive. Coming in and knowing that was going to be my role, and I've been given the opportunity, and luckily, I've capitalized on it. I think I really enjoy this role more than being [on] the third or second line."
She got another boost to her game in September thanks to Hockey Canada.
"I was at the national team camp," Kohler said. "That was really exciting to be with the Olympians. I think that's another thing that contributed to my good start here is that I came right from that camp, so I was practicing at a really high pace. I think coming right from that to here kind of helped my jump in the games. I attribute a lot to being at that camp, and that's my goal, is to keep getting invited back to Hockey Canada."
The national team benefit goes beyond the physical advantages it offers.
"I think just going to that camp and fitting in and knowing I belong there and deserve to be there really from a mental standpoint gave me a good start to this year," Kohler said. "I attribute a lot to the mental aspect of it, so I think I got more confidence from that. When I play with confidence, I'm a lot more effective."
Opponents recognize Kohler's effectiveness as well and adjust their tactics.
"I feel like I have more pressure on me when I'm in the corners," she said. "I feel like that's always been there, but now it's a little more intense. I kind of feed off that intensity, and I like when people are tough on me, because then it makes me go harder."
That defensive intensity can also take its toll. After her quick start over which North Dakota won four of five, Kohler has been held without a point in the last three games, all UND losses, two by shutout. She can now better relate to what the Lamoureux twins faced as the object of every defense's attention.
"I understand what they went through," Kohler said. "You look at them and I saw how they handled the pressure. They were role models to look at in how they handled it, and they kept working hard. I'm fortunate enough I got to play with them [for a year]."
The best way to alleviate that pressure on Kohler is if other players are producing offense and drawing some of the defensive focus. Dufault is averaging a point per game, and five of senior Josefine Jakobsen's 115 career points have come this year. Beyond that, there aren't many people who have put up big numbers at this level.
"[Senior Andrea] Dalen has had some good looks," Idalski said. "I think that we can get a little bit more there. [Junior Layla] Marvin has shown some flashes. We need to get production from the blue line. Gracen Hirschy and Halli [Krzyzaniak] need to jump in there. Sam Hanson has shown some flashes back there as well. I think [Northeastern transfer Jordan] Hampton is just starting to get comfortable for us. There's a decent group of players that I think we're going to get something from. As far as that being one person who is really going to jump up, I don't know if that's going to be the case. We're going to need a core of kids that consistently are doing some better things for us offensively."
Idalski has tried to increase the offensive output by moving some of his higher-scoring defensemen, in particular Hirschy, a WCHA All-Rookie Team honoree last year, to forward.
North Dakota is hardly alone in its quest for more firepower.
"You don't see the Brandts or the Poulins or the Lamoureuxs as much," Idalski said. "I don't think there's a lot of kids out there who are that dynamic. BC has a good group of them, but it's getting more structured; it's getting where everybody can play. You're starting to see teams trap more and more and be good at it, because they can skate and angle and they have talent. It's been very interesting to watch the game grow. In some areas, I'm not sure it's super great, but obviously, we're following the men. Twenty years ago it was where one or two people could carry a full team and do well. Now it's depth and four lines. I think we're mirroring that, too. A team can trap and win hockey games, and that wasn't the case four, five years ago."
Offense isn't the only way to win, and UND demonstrated as much last year. It arrived at the final weekend of the WCHA tournament knowing it would have to win the championship in order to extend its string of NCAA appearances to three.
Against Wisconsin in the semifinals, a 35-save shutout from goaltender Shelby Amsley-Benzie and a goal from Dufault were enough to frustrate the Badgers and advance to the final. The same recipe worked against Minnesota — to a point. North Dakota held a 1-0 lead halfway through on a Jakobsen goal. Amsley-Benzie did her part with 41 more stops, but when the Gophers got a couple of power-play tallies, UND could not come up with an equalizer.
The North Dakota defense is much improved from just a few years ago when it first rose to national prominence. However, it is tough to win games against ranked opponents consistently by scoring only a goal or two.
That's why it would be huge for UND if its tallest player can continue to take her game to new heights.
"[Kohler is] playing with a lot of confidence and she's creating offense for us consistently," Idalski said. "I'm super excited for her. The sky is the limit. She's just scratching the surface of what she's capable of."