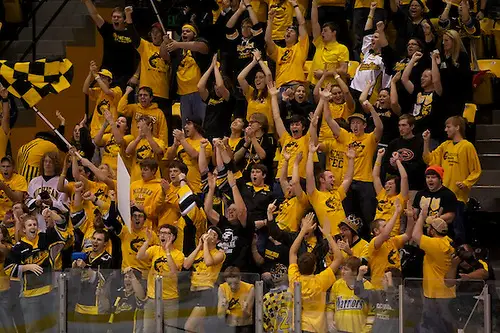 Michigan's Keweenaw Peninsula has been Wolverine-free since 1983.
That will change this weekend.
Michigan visits Houghton, Mich., this weekend to take on Michigan Tech at the John MacInnes Student Ice Arena for the first time in more than 30 years.
It couldn't have come at a better time for the 17th-ranked Huskies, who are 4-0 and riding high after their recent sweep of Ferris State in Big Rapids, Mich.
"Well, I don't know if there's ever a good time to play them," Michigan Tech coach Mel Pearson said. "They're such a good team. They're so scary up front. They're always a tough team to play."
This weekend's series will be Michigan Tech's first home games this season. The Huskies started the season Oct. 4-5 at Lake Superior State, then had two weeks off before visiting Ferris.
Pearson wasn't sure what to expect early this season, given the early start on the road plus a series at defending MacNaughton Cup champions Ferris State. The Bulldogs hadn't lost at home in more than a year and made Ewigleben Ice Arena a house of horrors for league foes in 2013-14, going 15-0-1 at home in the WCHA.
But the Huskies allowed just one goal against the Bulldogs, with goaltender Jamie Phillips stopping 67 of 68 shots.
"I'm really happy with how we started," Pearson said. "Considering last year we went 0-3-1 in our first four games, it's quite a turnaround. Especially early, when you don't know a lot about your team. But points are so critical, and any time you can get conference points on the road this early in the season, you're happy. You bank those."
Now the Huskies return home looking not for conference points but for in-state bragging rights and a little bit of confidence.
The significance of playing Michigan at home is not lost on Pearson, who played at Michigan Tech in his college days and was a longtime Michigan assistant under Red Berenson from 1988 to 2011.
"One of the first things I did when I got this job and got up here was to try and get Michigan on the schedule again," Pearson said. "And Red was all for it. He's all for college hockey. His teams aren't afraid to travel."
The Huskies and the Wolverines meet often, but it's typically on neutral ice — Tech and Michigan annually take part in the Great Lakes Invitational played at Joe Louis Arena in Detroit. The last time the Wolverines visited Houghton, it was a conference series, when both teams were members of the CCHA.
It wasn't until recently that the teams have decided to schedule one another for a home-and-home nonconference series.
The Huskies visited Ann Arbor in 2013 and are scheduled to return in the 2016-17 season; Pearson said he and Berenson were working hard to keep the scheduling relationship going and get the Wolverines back in the western U.P. in the near future.
For now, however, the Huskies will be looking for another solid series against a top team. Pearson is anxious to see how his team plays at home amid all the distractions — in addition to the Wolverines, the Stanley Cup will also be visiting Houghton on Friday, as will the MacNaughton Cup.
"This should give us a good idea of where we're at," Pearson said. "It's going to be a festive weekend. We have to find a way to focus and play hockey."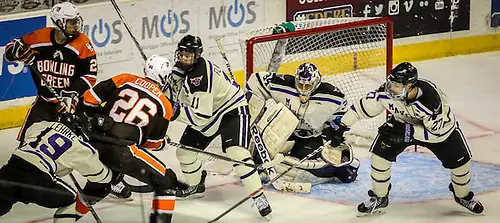 Series of the week
Minnesota State plays at Bowling Green this weekend, and if recent history is any indication, the series should feature a pair of close games.
The Mavericks and Falcons split four one-goal games last season, with three of the going into overtime. Minnesota State won two of the OT games.
"I think we developed a little bit of a rivalry," Bowling Green coach Chris Bergeron said.
The rubber match was played in the semifinals of the Final Five, with the Mavericks winning 4-0.
"That wasn't a 4-nothing game," Minnesota State coach Mike Hastings said, recalling goalie Cole Huggins' 36-save shutout. Shots were 36-36 in the game, and Huggins went on to take tournament MVP honors.
The Mavericks also got a great performance that night in Grand Rapids from Bryce Gervais (this week's league offensive player of the week, by the way), who had a goal and two assists to lead his team into the Broadmoor Trophy championship game.
As for this season's matchup, Bowling Green has the league's and the nation's top goal scorer in sophomore Kevin Dufour with eight goals, while Minnesota State senior defenseman Zach Palmquist is tied with Dufour for the league scoring league with eight points (3 goals, 5 assists).
The Falcons and the Mavericks are both averaging 3.5 goals per game, best in the WCHA.
Stay on schedule
Alabama-Huntsville travels to Northern Michigan for what will be a nonconference series in Marquette. According to Huntsville coach Mike Corbett, the quirk in the schedule comes from an agreement set before league realignment.
The two teams will play just one league series this season, which will take place Jan. 16-17 in Huntsville.
Ice chips
• At 3-1-2, Alaska Anchorage is off to its best six-game start since 2007-08.
• Ferris State goalie CJ Motte recorded his 2,400th save on Friday. He is third in the nation among active career saves leaders.
• Northern Michigan leads the nation in scoring defense, having allowed just three goals in four games for a 0.75 GAA. NMU sophomore goaltender Mathias Dahlström is second nationally with a 0.33 GAA in three games.
• Bowling Green sophomore forward Kevin Dufour scored nine goals all of last year. Now, he leads the NCAA with eight goals — at least one in all six of the Falcons' games.
Players of the week
This week's players of the week are: Minnesota State junior forward Bryce Gervais (offensive), Michigan Tech junior goaltender Jamie Phillips (defensive) and Bowling Green freshman forward Mitchell McLain (rookie).