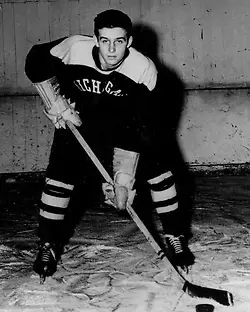 Wally Grant, Michigan's first three-time All-American and a key member of the Wolverines' first national championship team in 1948, passed away on Wednesday at the age of 86.
Grant remained involved in the Michigan hockey program long after graduation, serving as president of the Dekers Blue Line Club, while also holding membership in the Graduate "M" Club and Michigan's Victors Club. He was also the first former player to support an endowed scholarship for Michigan hockey, establishing the Mickey and Wally Grant Ice Hockey Scholarship.
"Wally and I became good friends in 1984 when I came back to coach the team," Michigan coach Red Berenson said in a news release. "Although his career was outstanding, his relationship with the program was even more outstanding. He and his wife Mickey have been solid supporters in every regard. They've done whatever it takes to support this hockey team and all of the players and the program in general. Wally did it in such a happy, supportive, positive way. You just can't say enough about his contributions to Michigan. We're all going to miss him. He was a terrific guy, a great friend, and in his day he was a terrific player."
A native of Eveleth, Minn., Grant led Eveleth High School to three straight unbeaten seasons, winning the first Minnesota state high school hockey championship in addition to playing quarterback on the football team and starring on the track team.
Grant played four years at Michigan, missing the 1946-47 season after serving 18 months in the United States Military. He returned in Jan. 1948 to help lead Michigan to the national championship, forming the formidable "G Line" along with center Wally Gacek and right wing Ted Greer. In the national championship game, Grant scored the game-winning goal at 1:30 of the third period to help the Wolverines defeat Dartmouth, 8-4. Grant scored 63 goals and added 83 assists for 146 points as a Wolverine.
In 1994, Grant was inducted into the United States Hockey Hall of Fame. He is also a Legend of Michigan Hockey, a member of the University of Michigan Hall of Honor and the Dekers Club Hall of Fame.
A memorial service will be held in December. Details are still pending.